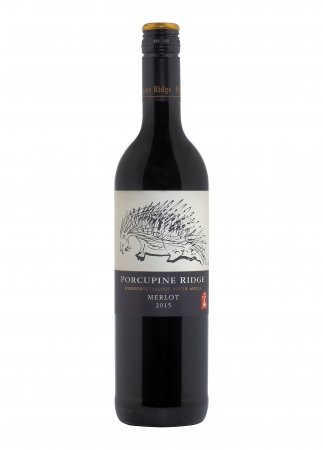 Everyday
There are few people in the South African wine industry as canny and capable as Marc Kent. He's been the public face and cellarmaster genius at Boekenhoutskloof since making the first wines on the 1993-purchased Franschhoek property from the 1996 vintage, and now presides over an 'empire' that has stretched from its original base into the Helderberg and the Swartland. (One recent display of his nous was to attract Gottfried Mocke away from nearby Chamonix to be his 2I/C. What a formidable team!) The Boekenhoutskloof wines remain category leaders; the syrah from the Porseleinberg farm in the Swartland garners critical acclaim globally; the Chocolate Block is a huge commercial success; and watch out for the first public release soon of The Journeyman, a wine that Marc has been making in tiny quantities for nearly a decade and supplying only to a select few. But it is the bulk wine labels of The Wolftrap and Porcupine Ridge of which Marc is especially proud – and with good cause. They deliver exceptional value and easy drinking pleasure for their price. A case in point is the Porcupine Ridge Merlot from the stellar 2015 vintage. Full of charm and soft blue and black fruitcake spiciness, it is an absolute steal at a recommended retail price of R55.
Dinner Party
The Alvi's Drift CVC 2015 has two quite significant things working against it. Firstly, it is a white blend – of chardonnay, viognier and chenin blanc – which is a tough sell in a market like South Africa where white wine drinkers have mass enthusiasm for only one grape – sauvignon blanc. That's despite the best efforts of local and international critics (yours truly included) to sing the praises of the brilliant chardonnays that are now being made, along with the variations that are being added to our long-excellent chenins, and the new-ish and very exciting white blend category into which the CVC neatly fits. Secondly, it is from unfashionable Worcester, which has the (largely deserved) reputation of growing grapes for distilled products or for cheap and not always cheerful co-op wines. The Van der Merwe's of Alvi's Drift are trying, along with a few other visionary souls, to change that perception. And one very important thing working in favour of that attempt, as exemplified by the CVC, is that is a really, really good wine. It speaks of sunshine and good living, with an enticing palette of peach, apricot and melon, and a richly textured palate. It is an interesting food partner, especially with Thai food. Superb value at under R90.
Out to Impress
The Dutch first made wine in the Cape, but it was the French Huguenots that developed and refined the nascent industry.
The Dutch first made wine in the Cape, but it was the French Huguenots that developed and refined the nascent industry. The French influence continues – it provides a benchmark of excellence for local wine-makers, and there are significant French people who have a stake in the local industry. The formidable May de Lencquesaing is a leading example. Her family has been in the wine business since 1783. She owned and managed the renowned Bordeaux second-growth property, Chateau Pichon Longueville Comtesse de Lalande for nearly 30 years. Madame bought Glenelly in Stellenbosch's Ida's Valley (part of a grant made by Simon van der Stel in 1682). Now in her early 90's, she still plays an active role in the farm and the wine-making, and Glenelly has become a must-visit destination. There's a superb bistro in the very French hands of Christophe Dehosse; there's Madame's world class Glass Collection – nearly 1,000 pieces from around the world, some dating back to 50BC; and there's the steadily improving wine, made by Luke O'Cuinneagain with an approach that is characterised by freshness and elegance. The Estate Reserve is the signature blend, matching perfectly the traditional flavours of Bordeaux grapes with the pepperiness of shiraz. It's marvellously concentrated and complex, and very fairly priced for the quality at just over R200.