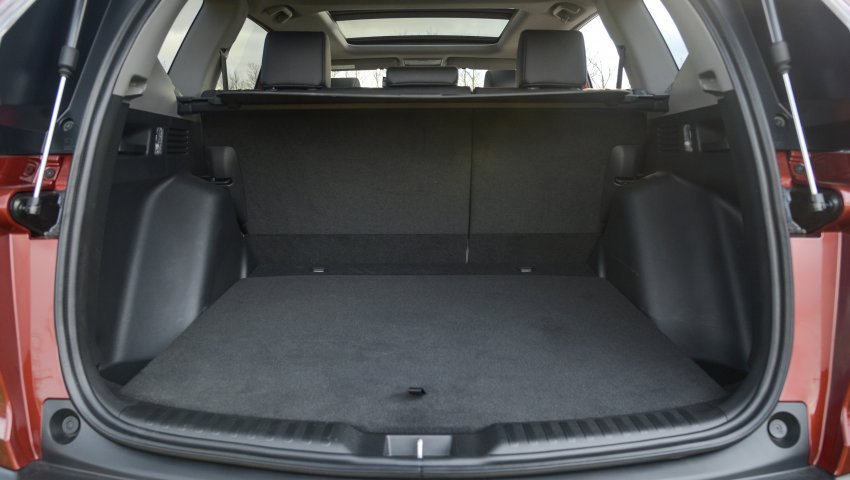 Middle Management: Honda CR-V
WHAT IS IT?
Now in its fifth generation, the Honda CR-V is one of the world's best-selling SUVs, with over 9 million units sold so far in 150 countries. With space for five adults as well as a generous boot, this is the kind of car that will end up the 'go-to' when you and colleagues need to get to a meeting or team builder. It's an urban SUV that doesn't promise the ability to traverse the wilds of Gonarezhou, and so isn't hampered by macho impracticalities that affect the ride comfort or urban drivability.
We've changed up the format of our motoring pages, bringing you two in-depth reviews of great cars that deserve your attention.
WHY THIS?
You want your boss to think you're sensible. Responsible. That you "have a good head on your shoulders". But you still want a comfortable, luxurious car that will take you on adventures on the weekends when you need to forget about your boss and his opinion. This could be just the ticket. Honda has created the most technologically advanced, sophisticated CR-V yet, and it is very hard to fault.
OUTSIDE
Bold aesthetics set this new-generation CR-V apart from its predecessors, and from just about every other SUV on the market. It's the kind of look that shows your boss that you don't mind standing out from the crowd, that you're not a sheep who'll follow blindly without giving things the thought that they deserve.
INSIDE
Honda makes interiors that are good and technologically advanced without quite reaching premium levels. What they are, though, is durable, and you'll be hard-pressed to find a rattle or a squeak even after a few hundred thousand kilometres.
You'll be amazed at the size of the CR-V – I was, and so was almost everyone who joined me for a test drive. This is a full-size family vehicle, more cavernous that any previous CR-V thanks to a longer wheelbase.
A full-colour touchscreen display (5-inch or 7-inch, depending on the model) offers access to the infotainment system, and even the base model gets Bluetooth connectivity, to keep you in touch with the office while you're on the road.
Honda always takes safety seriously and the CR-V is no exception. All models have the usual braking and traction assistance programs, as well as the innovative Driver Attention Monitor that keeps an eye on how you're driving and alerts you if you need to take a break (just the thing after an 18-hour day at your desk!)
THE DRIVE
At the heart of the CR-V that we drove is a 1.5-litre turbocharged petrol engine, which will surprise most. Even more surprising than the small engine capacity is the performance, thanks to the fact that it delivers 140kW of maximum power together with 240Nm of maximum torque. If this little technological marvel isn't for you, there is also a 2-litre petrol engine (113kW and 189Nm). Both engines are paired with a CVT (essentially an automatic) gearbox, while the 2-litre models are front-wheel drive and the 1.5-litre models get intelligent all-wheel drive. A comfortable drive has been prioritised over sportiness, and it is refined and sophisticated on the road.
FINAL WORD
Buying the CR-V is a decision made by the heart more than the head. It's the conclusion you come to after weighing up all the available data and applying it to the problem at hand, namely, sensible family transportation at a reasonable price (and with reasonable running costs), and with no obvious drawbacks. But once you've bought it and start living with it, you'll also start loving it.
GO GET IT
The Honda CR-V is priced from R422 900 to R626 900, and is backed by a comprehensive five-year/200 000km warranty, as well as a five-year/90 000km service plan. Visit www.honda.co.za for more information.
Senior Management: BMW M240i Convertible
WHAT IS IT?
The BMW range seems to have a car for every digit, and the 2 Series is a compact range of two-door coupes and convertibles. The M240i is the big hitter in the line-up, boasting an engine as good as just about anything on the market.
WHY THIS?
Not everyone wants a big, cumbersome SUV for the daily commute (even if it is as opulent as a Range Rover or as sexy as an Alfa Romeo Stelvio). Some of us want a vehicular scalpel that can slice through traffic, cut time off our journey, and nip a few turns off our parking.
This is that scalpel. Despite being one of BMW's smaller cars, the 2 Series is eminently spacious for two people, while you will manage to squish a couple of underlings into the back seats. And the M240i is fast enough and sexy enough to turn heads and point out that bigger isn't necessarily better.
OUTSIDE
The 2 Series was refreshed in late 2017, the new models benefitting from sharper front-end styling, a larger grille and LED headlights fitted as standard. It's a handsome, aggressively styled vehicle in both coupé and convertible form, but it's the convertible that stands out in a crowd. The electrically operated fabric soft-top can be opened while on the move, at speeds of up to 50km/h.
INSIDE
There's no mistaking the interior of a 2 Series for anything other than that of a BMW. Classy, understated and beautifully put together, it is a lovely place to be, whether on the morning commute or screaming around a mountain pass. The infotainment system has received a few tweaks and is built around an 8.8-inch central touchscreen display. The new-generation models have the option of powering compatible smartphones wirelessly by means of an inductive charging tray, and Apple CarPlay can be accessed via the BMW navigation system. No more risking your life taking that important call…
THE DRIVE
Truly brilliant engines are few and far between these days, thanks mainly to the downsizing trend in pursuit of reduced emissions and fuel consumption. Thankfully, BMW engineers flew against the wind with this one. The 3-litre, straight-six petrol engine with twin turbochargers produces 250kW and a whopping 500Nm of torque. Despite this, the M240i has the potential to deliver fuel consumption figures of just 7.4L/100km. Just remember that speeding fines aren't tax deductible...
FINAL WORD
You really have to look the part, be it in business or in your social life, and the M240i will do that for you. It also shows that you respect performance. Be warned though – the doors are long, and nothing puts a career on the skids quicker than a dent in the door of the chairman's Maybach.
GO GET IT
The M240i Convertible is priced from R802 700 and comes standard with a 3-year/100 000km warranty and a 5-year or 100 000km maintenance plan. Visit www.bmw.co.za for more information.