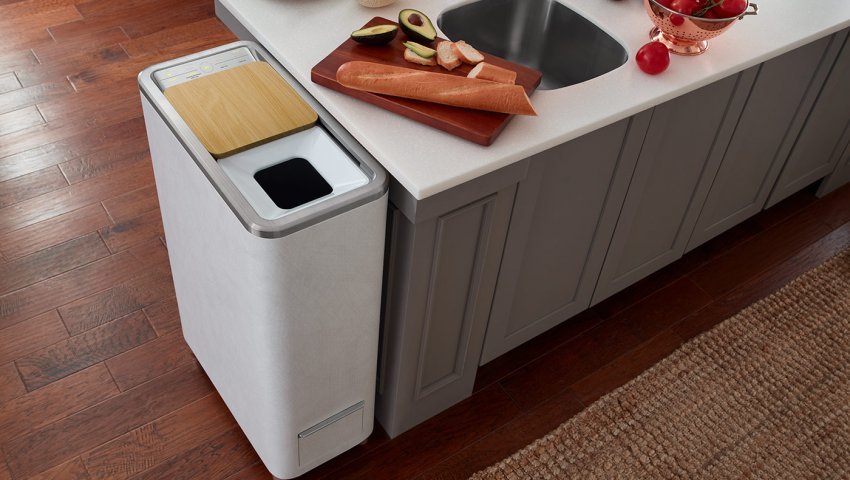 CES
The 50th anniversary of the world's biggest gadget and technology show, CES, gave us a fascinating insight into what the next 10 years hold in a technological world that is evolving at a blistering pace. CES 2017 in Las Vegas at the beginning of January saw more than 3,800 companies launching over 20,000 new products. There were more than 180,000 visitors looking at the exhibits covering a space larger than 40 rugby fields.
Televisions always take centre stage but this year the automotive industry was also there in full force with their latest electric vehicles and sharing plans for an autonomous driving future. Drones were in abundance, 3D Printers are becoming more sophisticated and cheaper and wearable health devices were all the rage at CES 2017. Everything is getting connected and sharing information – the Internet of Things is heading into our lives faster than we can comprehend.
The 50th anniversary of the world's biggest gadget and technology show, CES, gave us a fascinating insight into what the next 10 years hold in a technological world that is evolving at a blistering pace.
The technology that is driving everything was not even visible. The software, the artificial intelligence, the algorithms making sense of the data – those were the kingpins of CES 2017!
This is why the likes of Microsoft, Google, Amazon and Apple hold the keys to the digital highways. Are you ready for the future? Hold on tight! The pace of change is about to shift up a few notches.
LG SIGNATURE OLED TV
The television that stole the show at CES 2017
LG's flagship OLED 4K television had everyone talking in Las Vegas. LG's latest 4K TV has such a thin panel that it defies logic. Imagine a television the size of piece of cardboard sitting flush on your wall at home with an amazing picture quality. Well that's the new LG Signature series – it literally attaches to the wall. It is just 2.57 mm thick. The picture quality has become even sharper than the previous model. OLED (organic light-emitting diode) has truly revolutionised the picture of quality of televisions. The new model also features active HDR with 4K resolution. Prepare to be awed when this television arrives in South Africa later this year!
LEGO Boost
Toys to take your kids into the world of technology
Mention Lego and you automatically think back to your childhood, building things with coloured plastic blocks. Over the last decade Lego has revolutionised their offering by bringing technology into their iconic products. This year at CES, LEGO introduced Boost – a building set that combines coding and robotics to allow children to add movement, sound and even personality to their creations. Designed for kids 7 and up, LEGO Boost is designed to make the young mind think laterally. It works together with an app to give you a visual representation of what you are doing. The app helps with the coding, design and to personalise what you are building. The actual kit is sophisticated with the app offering more than 60 different activities. It has many built in sensors and tiny motors that will let the imagination of young kids run wild! I am willing to bet that they will sell more of these to adults than kids! I want one!
Sleep Number 360 Smart Bed
Even beds are not escaping digitisation!
Yes folks, you heard it. A smart bed! You're probably wondering why on earth would you need something like this. Let me explain…
The Sleep Number 360 Smart Bed is packed with sensors that analyse your sleep patterns. This bed adapts according to the way each person sleeps on each side of the bed. This is thanks to the ResponsiveAir™ technology that adjusts the bed's comfort in real time via the two air chambers inside the mattress – gently contouring to each partner's side, back or stomach profiles. Does your partner snore? Well this is where the bed gets really exciting. It is able to detect snoring and will gently adjust the snorer's head by seven degrees until they stop snoring. And if you are one of those people that has cold feet in winter, no problem, this bed has foot-warming technology in the base to help you sleep better. Of course, the research has shown that when your feet are warmer you do sleep better – duh! And yes the bed knows your sleeping patterns, so it will automatically warm the bed up before you go to sleep. It also has a built in alarm that will gently wake you when you are at your lightest stage of sleep. Convinced yet? Oh, and did I mention that there is also an app that synchronises and analyses everything.
Zera Food Recycler by Whirlpool
Make your own fertilizer within 24 hours from your kitchen waste
This product I loved! We all throw kitchen waste into our bins but imagine making all that waste useful! The Zera Food Recycler looks like a dustbin but what it is does, is magical. It reduces your food waste by over two-thirds its original volume through a fully automated process. Within 24 hours you have fertilizer that you can use on your lawn and plants. It's as simple as that! A really useful gadget in a world where we should all be recycling more effectively.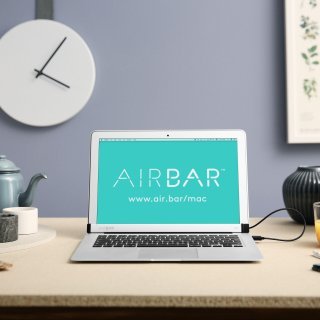 AirBar Sensor
Add touch and gesture to your laptop
This gadget is genius! The AirBar sensor is a sleek metal bar that attaches to the bottom of your laptop display magnetically. Plug it into your USB port and presto! You now have instant touch and gesture capabilities. Use your hands to do stuff on your screen. How does it work, you ask? The AirBar uses a technology called zForce Air, which basically emits an invisible light field over your display that senses touch from your fingers, gloves and even a paintbrush. It is actually very cool to use and surprisingly accurate!
Lenovo Smart Assistant
Use your voice to make your home really smart
One of the key themes at CES 2017 was the smart home and how our voices are being used to send commands to devices in our homes. Lenovo's Smart Assistant is a cylindrical speaker device connected to the Internet using Amazon's Alexa voice assistant to do all kinds of tasks like turning lights on in your home. You can also ask questions, play music and order stuff online. Ask questions and you get the answers. Add appointments to your diary by just using your voice. The sound quality is pretty good as well!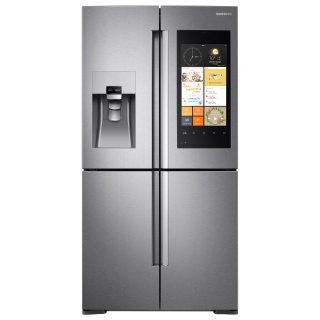 Samsung Family Hub 2.0 fridge
A talking fridge that can do so much more
Samsung have updated their Family Hub Fridges by adding more features and functionality. Imagine your fridge with a massive screen built in – a digital board instead of attaching pieces of paper with magnets. This is the modern fridge. It has voice commands to play music, stream television and keep the entire family's agenda on a beautiful visual display. The new fridges also keep tabs on what's inside your fridge thanks to the three cameras situated on the inside door. It takes a snapshot every time you open and close your fridge and synchronises this with the app so that when you are at the supermarket and not sure what is inside your fridge, just open your app and you can see the contents with ease. Samsung is working on technology that will enable the fridge to know exactly what you use and will you give you the option to order groceries automatically when you start running low. It also has a feature to suggest recipes based on what ingredients you have available in your fridge!