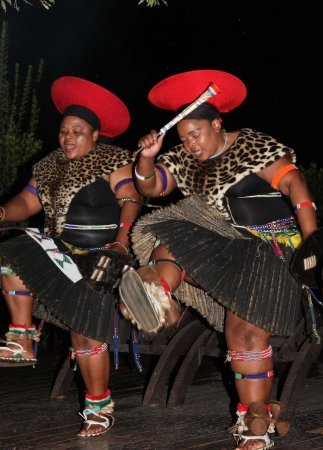 The overuse of word 'dream' in holiday brochures has made it redundant, weighed down with expectations rarely met. I prefer the Zulu word umoya, meaning life force, easily unbalanced by stress or neglect of the ancestors.
A good sangoma can bend reality and bring umoya back into harmony, but it takes a tracker like Nhlathla Msweli of Thanda Safari to facilitate a more intimate understanding of the Zulu culture.
Loquacious as a tribal chief, Nhlathla explains how a Magic Gwarrie (Euclea divinorum) branch can divine water or carry food, but no tree is more sacred to the Zulu people than the Buffalo Thorn, or umLahlabantu in the vernacular. The roots are pulverised for painkillers, the leaves treat skin and respiratory ailments, while the thorns ­‒ pointing backwards and forwards to "remind our people never to forget the past, even as they look to the future" ­­‒ snag the spirits of the dead, and bring them home.
"Let's say Uncle George dies in Richard's Bay. We will bury his body at home but one of his relatives will go and put an umLahlabantu branch at the place he died. He will speak to it, saying: 'Listen, Mr. George, I've come to fetch you. Come with me, and let's go home. We will go together.'
"He will find a taxi, buy an extra seat for the branch, turn to it and explain: 'We are taking the taxi now, Mr. George. Soon we will cross the river and stop at the Empangeni spaza to buy a Coke for me and a beer for you.'
In northern KwaZulu-Natal, Thanda Safari guests learn why the Buffalo Thorn (Ziziphus mucronata) is so sacred to the local people.
"Back home, the family will be waiting for the relative with a goat, which is then fed with leaves from the umLahlabantu branch before being slaughtered. Small pieces of its liver and intestine are burned for the ancestors, while the rest of the branch is put on the grave. Family and friends eat the goat while the old people, who might soon join Uncle George in the afterlife, drink his beer."
Nhlathla's evocations are as thrilling as our animal sightings on this 14 000-hectare Big Five reserve, which included elephant, giraffe, buffalo, white rhino and lions, just a duiker-leap away.
Afternoons were spent within tent ‒ think safari chic with polished wooden floors, starlit showers, and private sundecks overlooking umbrella tree-festooned hills and browsing nyala. That evening, Zulu dancers grooved with guests in the boma, and in the early hours, the spine-tingling whoops of hyena sounded more melodious than the Drakensberg Boys' Choir.
On a pre-dawn drive, we found four feasting on a buffalo carcass as crows and vultures watched from acacia trees. As the rising sun further illuminated the beauty and harshness of that primal scene, I realised my own umoya, hitherto in short supply, had returned. No sangoma required!
Caroline Hurry was a guest of the Thanda Safari Tented Camp: www.thanda.com