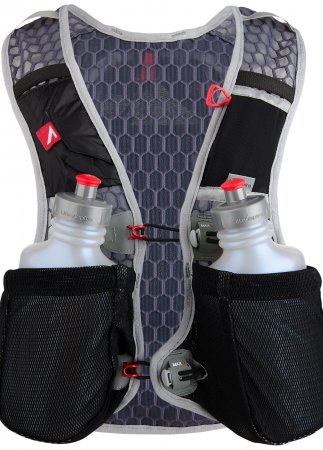 A: HUMAN-POWERED
1 On your Feet – Hi-Tec Speed-Life Breathe Ultra trail running shoe
WHAT IS IT: The Hi-Tec Speed-Life Breathe Ultra is designed as a trail running shoe so stylish you'll wear it to drinks with the boys (or girls)! Their construction provides your feet with personalized comfort and a secure fit thanks to their floating lacing system. Plus, the PU Ergo Frame adds extra ankle-support as you adventure along tougher terrain.
WHY DO YOU WANT IT: This slick trail shoe will never limit where you unwind in the great outdoors. It is packed with technical features, including the Hi-Tec 'i-shield' to repel water and dirt. Add an Ortholite® Impressions sock liner (with slow recovery foam) for superior cushioning and Multi-Directional-Traction to maximize grip in tough terrain. That's a full-on trifecta: value for money, slick design and advanced tech, all in one shoe!
DESIGN USPs: High performance, synthetic mesh uppers and microfleece moisture wicking linings help your feet breathe, while the nylon fork-shank and improved gait keep your feet stable and secure on gnarly terrain. Moulded, impact-absorbing EVA midsoles ensure lasting cushioning and comfort, while on-trend colours and design will rock your world.
Funky or Fun. Far-fetched or Absurd. Classic or Alternative. ACUMEN's motion maestros check out six incredible ways of having fun while moving from Point A to Point B … 
GO GET IT: Available at Sportsmans Warehouse from April 2017
RRP – R1,099
2 On Your Head – Liv Infinita Cycling Helmet
WHAT IS IT: The new Liv Infinita helmet is an extended coverage style mountain biking helmet. It is aimed specifically at trail and enduro riders, with the design and construction adding additional rear protection when compared to standard cross-country XC helmets.
WHY YOU WANT IT: Long climbs and flowing descents are where the Liv Infinita really shines and you'll be ready with this purpose-built helmet, no matter where the trial takes you. Keep a cool head with 28 large vents and deep channelling which will increase air flow and ventilation. It also comes complete with a goggle strap, moveable visor and an action camera mount. Add a superb fit, and you have everything you need to conquer your next enduro or all-mountain ride in winning style.
DESIGN USPs: Huge thumbs-up on including Transtextura PlusTM antimicrobial padding, an advanced, natural fibre prohibiting bacteria growth by channelling perspiration through the AirFlow exhaust ports. The Liv Infinita also features an Integrated GoPro compatible mounting surface, also maximizing safety through their MIPSTM Brain Protection system, designed to reduce rotational motion through angled impact zones (on selected models).
GO GET IT: From all Giant Performance dealers, or check www.giant-bicycles.com/en-za
RRP – R1,599.00
3 On your back - UltrAspire Alpha 3.0 Vest
WHAT IS IT: The UltrAspire Alpha 3.0 Vest uses the same legendary and award winning design that has shaped the classic style which has made #UltrAspire a household name in endurance sport.
WHY YOU WANT IT: This vest-style pack is perfectly sized and form-fitted, making for total comfort, even over the long haul. The UltrAspire Alpha 3.0 Vest features a zippered back, as well as elasticized mesh compartment for more capacity and versatility. The low-impact and dynamic design will allow you to keep focused and moving consistently, while carrying all your essentials on multi-day endurance events.
DESIGN USPs: Fitted with two easy-to-reach bottles and compatible with a 2l hydration bladder, you've certainly got your fluids covered. A water-resistant, magnet-sealed pocket on the left shoulder strap can safely store hydration pills and tablets for easy access, while a zipper pocket on the right hold keys or other valuables. Nutrition and apparel fit easily in the rear compartment and can be reached on-the-go via a magnet sealed side opening.
GO GET IT: Available online from www.nativesport.co.za
RRP – R2,280
B: MOTORISED
On the motorized side, we look at three cars similar at first glance, but with many a difference under the hood and inside. Read on and see which appeals to your soul ...
Toyota, Audi and Mercedes-Benz: these three manufacturers are currently at the forefront when it comes to producing cars with universal appeal.
FOR THE HEART: Toyota C-HR
WHAT IS IT: A little SUV that reminds one of a time when the RAV4 stirred up the market. Smaller than the current Rav, the C-HR is a left-field alternative in the humdrum world of family hatchbacks and compact SUVs.
WHY DO YOU WANT IT: A Toyota that appeals to the heart? Yip, it's true! The C-HR will appeal to the wacky, to the fun-at-heart, those who want their car to have as much character as they do.
DESIGN USPs: Combining the renowned reliability, after sales service and resale value of Toyota with a fun, creative design makes for a recipe that thousands would have been waiting for. Just three models will be available, all powered by a 1.2-litre, turbocharged petrol engine that produces 85kW and 185Nm, using 6.3 litres per 100km of petrol to do so. This engine can be had with either a 6-speed manual or 6-speed CVT gearbox, both of which are impressive and work brilliantly with the little engine. Ride quality is also excellent for a vehicle of this size, and even when we mistakenly strayed beyond the speed limit the car felt composed and surefooted on the road.
GO GET IT: The C-HR is priced from R318 500, and a 5-year/90 000km service plan and 5-year/100 000km warranty are standard. Visit www.toyota.co.za for more information.
FOR THE HEAD: Audi A5
WHAT IS IT: When the Audi A5 was launched back in 2007 it defined what a practical, sexy coupé should be. Now that first generation A5 has been replaced, and the successful recipe dramatically improved upon.
WHY DO YOU WANT IT: Most of you will want an A5 because it is strikingly beautiful. Some of you will want one because it is finished as superbly as all Audis are. And a few will want one because it's actually a practical car. No really, it is!
DESIGN USPs: The size of the boot lid of the A5 is one of the reasons I like it – you can fit all sorts through that opening. Other than that, it is great to drive, luxurious to repose in, sensational to look at, and available with variations of two great engines: the 2-litre TDI turbodiesel and the 2-litre turbo FSI petrol. Only automatic gearboxes can be had, but both diesel and petrol are available in a Sport model or with Quattro all-wheel drive.
GO GET IT: At the time of print Audi South Africa hadn't released pricing, but by now the secrecy will have been lifted. All Audis include a 5-year/100 000km warranty and maintenance plan. Visit www.audi.co.za for pricing and more information.
FOR THE PLANET: Mercedes-Benz C350e
WHAT IS IT: You all know what a Mercedes-Benz C-Class is. For decades it has been the epitome of everyman's aspirational luxury sedan, embroiled in a fierce battle with the BMW 3 Series and Audi A4. The C350e, though, is a bit special – it's a plug-in hybrid that uses electricity and petrol as tandem power sources.
WHY DO YOU WANT IT: A businessman with a short commute, to whom a claimed fuel consumption figure of 2.1L/100km appeals, is the person I imagine buying this car. It's luxurious, fast, quiet, and you can even argue that it's a responsible purchase.
DESIGN USPs: Hybrid models are becoming more and more prominent in manufacturer's lineups, and in the developed world are accounting for more and more sales. The C350e is a plug-in hybrid, which means that you plug the car into an electric socket to charge the batteries, which can propel you for up to 30km without using the petrol engine. So for a short commute, you could get by without filling your car with petrol during the week. And when you do need the 2-litre petrol engine, it's there, producing 155kW and 350Nm.
GO GET IT: The C350 e is priced at R804 900, including a 3-year/60 000km maintenance plan. Visit www.mercedes.co.za.