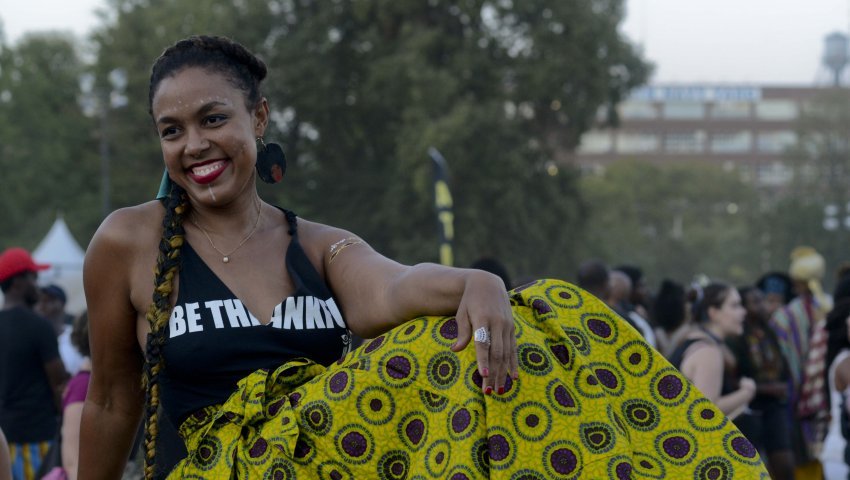 Certainly in the last decade or so, there isn't a place with the kind of cultural importance that Brooklyn has assumed in post 9/11 New York City. And Afro Punk, as the Afro Punk Festival is widely known, was founded the year after 9/11. From its modest beginnings in 2002, this festival has turned Commodore Barry Park into one of the most important cultural parks in the United States. In the last week of August, there's a deluge of the trendiest, coolest, hippest Afropunks.
If you don't believe me, consider this for a moment. No sooner had I walked into the park than I ran into the movie director Spike Lee, hands steady on his camera as he took a series of portraits against a nondescript wall. But his subjects were clearly dressed for Afropunk. Which is to say dressed in ways that both inspire and confound. Whether it's a dashiki, or a pair of jeans, or a simple T-Shirt, Afropunks seem to know just how to add the kind of twist that stops you dead in your tracks. There is no dress code at Afropunk. Which is another way of saying the dress code at this festival is a measure of how defiance trickles down to popular culture.
One of the great advantages of being a photographer at such festivals is that you get the chance to ask people personal questions. Once they've agreed to be photographed, there's a tacit understanding that it's not rude to be pointedly personal. Which is why I was able to find out just how big Afropunk really is in the global Black culture calendar. Those who've caught on to its frequency are prepared to embark on what is clearly a cultural pilgrimage. Earlier in the day I'd met two friends who had travelled from French-speaking Canada to the festival. It was their first time at Afropunk, but they were certain that it wasn't their last. There was also a lone traveler from North Carolina who said she would be coming back the next year. There were of course plenty from nearby cities like Washington D.C., Boston, Philadelphia and Baltimore.
Certainly in the last decade or so, there isn't a place with the kind of cultural importance that Brooklyn has assumed in post 9/11 New York City.
They come from all over the world. At this year's edition of Afropunk I was astonished to meet so many Africans who had travelled to New York City just to attend this festival. There was a group from Lagos, another one from Accra, and another one from Johannesburg. On the Saturday evening the South African group held an impromptu dinner at the restaurant named for Madiba on Dekalb Avenue. Across from me was singer Thandiswa Mazwai, writer & editor Lerato Tshabalala, magazine editor Yoli Zama and a host of other South Africans.
Across from our table was the actor Malik Yoba who was ordered to join our table. Such was the camaraderie that no one even bothered him for an autograph. There were other big name actors at the restaurant, and because South Africans are not shy, many of them were asked to come over to our table. They didn't come because they were ordered to by a bunch of South Africans, but because of the vibe that Afropunk creates.
Dazzling line-ups
In 2015 Afro Punk hosted the magical Grace Jones. As well as Lenny Kravitz. This year there was Ice Cube. There was also Saul Williams, who straddles genres whilst still enchanting audiences. Then there was Janelle Monae, George Clinton, Skunk Anansie, Flying Lotus and Angel Haze amongst others. Each year the organizers see to somehow know which musicians and performers capture the zeitgeist.
For anyone who's ever seen Busi Mhlongo, Phillip Tabane, the Muffinz or Mfaz' Omnyama on stage, you know that punk has its roots in the music of Africa. For anyone who watched the movie Cadillac Records it was a reminder that this has always been our music. And our style. Chuck Berry, Etta James, Muddy Waters, Howlin' Wolf. They were there at the beginning of rock 'n' roll. Creating this pulsating style of music, bringing an electric energy to the urban song.
The 15-minute walk from the York Street station to the park was a splash of colour. Of style. And glorious attitude. Here were the most beautiful people you've ever seen. Walking with what the young call swag. Lots of it. Swaying to the rhythm of the music on their iPods and phones. Or simply the joy of being alive.
Be different
When you arrive at an event, a long queue is normally a big turn off. But at Afropunk, it was no ordinary queue. This was a study on just how funky black people are. At a time when everyone seems to wear the same things, bought from the same shops, here was a space of difference. It was as if those who'd come to Afro Punk had received a memo that said, 'Be different. Be inspired. Be yourself'
Against the backdrop of a brutal gentrification that has sapped much of the energy of Brooklyn, and replaced it instead with the insipid symbols of high street America, it was wonderful to see the absence of the big brands that spell the doom of cultural independence. To see young guns selling T-Shirts you won't see at the big chains. And to see the official Afro Punk merchandise in brilliant shades and unique fabrics. And those who rocked it didn't look like staid officials. Instead looked like edgy fashionistas.
At a time when the images of people rely so heavily on what they see reflected of themselves in the media, there was something decidedly anti-establishment in how those at Afro Punk represented themselves. There's a sense that these are the individuals who shape their own identity. It is not a common identity that brings them together, but rather an embrace of the spirit of difference. Eschewing any kind of narrow identity, there's instead this spirit that unites young and old, men and women.
Long may Afropunk last. And it is no surprise that other cities have caught on to the magic of Afropunk. With festivals in Paris, Atlanta and London adding to the original New York. Miles Davis gave us The Birth Of The Cool in 1949. The rebirth of the cool is taking place across the bridge, in Brooklyn