Aki Anstasiou measures his own blood pressure and lauds the new Apple Macbook.
KardioFit Blood Pressure Monitoring
Price R216 per month
Healthcare is an industry set for major disruption. The notion of the quantified self is essentially using modern day technology to track your health on a regular basis. One SA company taking this forward is KardioFit which has launched a world first in treating hypertension or high blood pressure, which, in turn, is linked to heart disease and strokes. KardioFit has partnered with iHealth Lab - a world leader in mobile personal healthcare products to provide blood pressure monitors. The devices can be used from the comfort of your home to check your blood pressure on a daily basis. But this technology goes one step further. It links to an app and syncs the information after the reading has been made. The information is then available to doctors, caregivers and ER24 who will monitor for any irregularities. If your blood pressure is too high and there is an emergency, ER 24 will automatically dispatch an ambulance. The app also sends patients messages to remind them to check their blood pressure. Users will pay R216 per month for the service which includes the iHealth blood pressure monitor.
PhotoFast Memories Cable
Yes! A cable that stores data and charges
Priced from R 1200
The PhotoFast MemoriesCable is a clever cable designed for Apple phones that allows you to charge your phone or use it for storage. Once you've downloaded the PhotoFast app the menu gives you the option to download your data onto the cable. You can store anything - your contacts, music and videos - from your phone - even your Dropbox files. You can automatically set the MemoriesCable to back up while charging your iOS device. Worried about security? Don't stress, the cable can use a password and Apple's Touch ID to secure your data. Storage sizes start from 32 GB to a massive 128 GB!
Plantronics Voyager Focus
Stereo Blue Tooth Headset with Active Noise Cancelling
Price R3999
The Plantronics Voyager Focus headset is designed to offer a high quality user experience in the work environment while not compromising on music quality. It does this using sophisticated intelligent sensors built into the headset that cancel out background noise both in the headphones as well as the microphone. There are three separate microphones that offer dynamic noise reduction - even take a call next to a vacuum cleaner running and it cuts the noise out! You can connect to your laptop, phone, tablet and even smartwatch simultaneously. If you are on a cell phone call for example, and a Skype calls comes in, you will be given the option to put your call on hold and take the Skype call or vice versa. It is designed to make unified communications seamless and the smart technologies built into this headset make working hands free and taking calls more productive. The Voyager Focus has a range of 45 metres and a battery life of 12 hours.
TrakDot Luggage Tracker
Price R960
Ever been one of those 26 million passengers every year at airport arrivals, standing alone, staring at an empty carousel when everyone else has already picked up their luggage? Losing your luggage has to got to be one of the worst feelings in the world! The card-sized TrakDot Luggage Tracker will hopefully take some of the anxiety out of travel by tracking your bags. Powered by two AA batteries, it uses cell phone technology to alert you to where you luggage is as soon as you land. It has a smart chip built in that shuts the device down as soon as the airplane takes off or goes over 100 knots. When the speed goes below 100 knots the TrakDot turns itself back on. You can get a text, email or even use the app to find out exactly where your luggage is. It will even send you an alert just before it comes out onto the carousel which can potentially be more thrilling than seeing your family members waiting for you in Arrivals.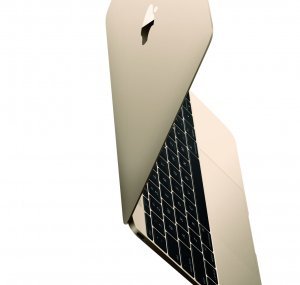 Apple 12-inch MacBook
Is this the future of laptop computers?
Priced from R18 999
Apple's new 12 inch MacBook is incredibly thin, light and defies engineering. What they have packed into a computer that is 1.3 cm thick, has a full keyboard and weighs 920g is quite astonishing. And it has a 2,304 x 1,440 Retina display! Apple has redesigned every element in the new 12-inch MacBook. The new keyboard uses a "butterfly" mechanism as you press the keys - be warned, it does take a bit of getting used to. The new Force Touch trackpad is probably the piece of technology that sets this laptop apart from all the others. The new trackpad has clever sensors that monitor the amount of pressure you apply to add more functionality to your experience.
What! No USB ports? Apple chose to use the new USB-C port in this new MacBook. USB-C is the new industry standard that will be used for connectivity and power in next generation laptops. You will need an Apple USB-C Digital AV Multiport Adapter if you will need USB support and for presentations. Ultimately this is where computing is heading. With everything moving to the cloud and data connectivity becoming ubiquitous the USB is set to go the same way as the DVD. The new MacBook uses Intel's Core M processor to deliver a battery life of around 8-9 hours. It comes in space grey, silver and even gold for the true fashionistas.