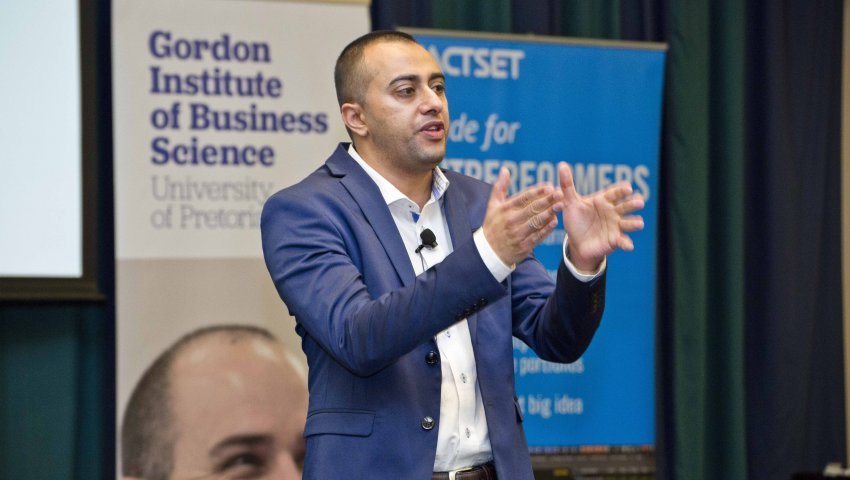 From the CEO Initiative to Save SA and Business Leadership SA, business leaders are waking up to their responsibilities to society at large. But this is not enough. They also need to speak the language of politics.
Without a doubt these CEOs must come together, but this engagement must be underscored by listening more, by understanding more, and by utilising this elevated position to open up a channel for discussion. We need leaders to dig deeper than these business-facing collective lobby groups, and this requires these central players to interrogate their own role in society.
American economist John Galbraith once said that: "All of the great leaders have had one characteristic in common: it was the willingness to confront unequivocally the major anxiety of their people in their time. This, and not much else, is the essence of leadership."
I love this quote because it talks to how leaders manage the anxiety points of society, of their stakeholders and of their staff. But it is impossible to address challenges unless you recognise them first. That requires business leaders with fine-tuned political and social acumen, with a deeper understanding of social capital and how to build relationships, and with an ability to listen to multiple voices. Only then can we look at businesses that grow, are profitable and still have a societal impact.
These days this approach is widely understood by the term shared value, and I was fortunate to spend two-and-a-half weeks at Harvard Business School last year for a programme with the doyens of this approach, Michael Porter and Mark Kramer. During the programme there was much discussion around South Africa's Discovery and its Vitality programme; an approach which positively impacts the lives of people while ensuring a healthy bottom line for Discovery and keeping the rest of the industry on its toes. We need more examples of corporations and leaders who are able to navigate the political-social-business divide and speak all the languages required to influence change. This is a debate which every leader should be having within his or her own organisation.
An inward focus
Five years ago, if you spoke to business leaders about how politics affected them in South Africa, there would have been much umming and ahhing. But, in the past six months, we've begun to see business leaders worrying and trying to understand how politics has an impact on them. We are seeing business leaders wanting to understand what the political terrain will look like in the next 6, 12 or 18 months. This is largely because, all of a sudden, politics has become front and centre in their world. Politics is having an impact in terms of their growth, sustainability and their investment flows. This is why political engagement has moved up the ladder. It is no longer the purview of a government relations person; it's now an agenda item for the board, the executive and the CEO.
Two questions spring out of this shift. First, we have to ask if South African business leadership has the requisite political insight to tackle the task at hand? Second, in the light of the allegations of state capture, are all interactions being done transparently, openly and honestly?
Getting this delicate balance between engagement and influence right requires that business becomes extremely clear about its broader responsibilities to society, as well as to all stakeholders. Only once this internal check is completed can we expect businesses – many of which are seasoned and internationally savvy – to work with our young democracy to create the change we need.
Welcome alternative voices
Given the anti-business rhetoric from many areas of society, it is likely that greater business influence will truck criticism from some quarters. But this cannot hold back the discussion. It is not about business leading and everyone else following, although business needs to be an active player within a multi-representative conversation. That means inviting alternative voices to the conversation, voices we often don't like or agree with. It means business engaging with proponents of radical economic transformation to understand what it means in the context of business and, in turn, helping others to appreciate the role of business in society.
If business lives in an ivory tower, insulated from the challenges of the majority of the country's population, then how can its leaders honestly expect to appreciate the societal challenges facing South Africa and respond to those in a way in which takes a much more shared value approach? Discussions like those I enjoyed during my time at Harvard tell us that many global businesses and commentators believe companies can achieve both profit and a deeper societal impact. The two are not mutually exclusive.
Take off the blinkers
There are countless social issues in South Africa which would benefit from this win-win approach. But, make no mistake, a shared value drive will not be enough. Nor will the outcome of the ANC's elective conference in December solve deep systemic issues around race, identity, gender, the role of business in society and inclusive economic growth. These issues will not magically disappear. Instead, we must begin to understand one another and learn to engage with more empathy.
This applies across the board, but for leaders it is of pivotal importance. Only when you experience challenges first hand can you begin to engage with compassion. For example, to understand the challenges in education, we need to leave the fancy grounds of a private school and go to a poorly performing government school to appreciate how to add value and contribute in creative ways.
When I am lecturing I deliberately leave the classroom and go into areas where my students might not necessarily venture. This brings about heightened education through multiple senses of hearing, seeing, smelling, appreciating, conversing and understanding. In many respects it's a more powerful way of learning and it ultimately gives greater meaning to numbers and statistics.
Be open
This asks business leaders to break out of their enclaves, to stop speaking among themselves alone and open up to divergent views. At GIBS we know exactly how challenging this approach is for the individual because, since 2001, we've been on this journey through our Nexus Leadership Programme. Vulnerability is at the core of this award-winning transformative programme, which aims to strip away comfort zones and expose individuals to deeply uncomfortable conversations as part of a dialogue-based programme. Nexus challenges assumptions and forces participants to open up to the realities of South Africa, as well as their personal prejudices. The end result is a more empathetic approach to engagement.
Now is the time for this level of dialogue and understanding. Business, collectively or individually, must reach out and be prepared to be uncomfortable with the conversation.
This brings us back to political quotient. If this experiment in co-operation is to work, then the biggest requirement of business is to develop a deeper understanding of how politics works in South Africa, and the role and impact of politics on business and on society. To appreciate the nuances of our country's different and divergent political parties and to engage with them robustly and, in some cases, publicly. This would create a much more politically aware leadership within business, leaders who are able to talk about issues plaguing society from a first-hand vantage point.
One would also hope for a similar appreciation from the other side of the fence that one cannot talk about politics without understanding business's role. Business remains the largest contributor towards the fiscus in terms of PAYE, employment and GDP. This is no small contribution, but South Africa needs more from these institutions and leaders. We need them not only to navigate the world of business but become in-tune and knowledgeable social players and political observers. Only then can South Africa's leadership have the sort of critical conversations we so desperately need. Our future depends upon it.
...it is impossible to address challenges unless you recognise them first

This asks business leaders to break out of their enclaves...