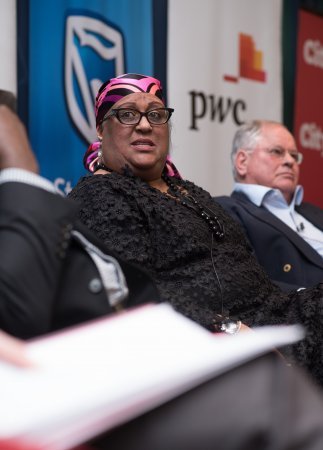 Think tank founder Gideon Pogrund told the gathering that while we live in a world where trust is in short supply, the trust deficit is especially serious in South Africa. This is a symptom of a deeply polarised society, and threatens the conditions for our future success. The panel included Nhlanhla Nene, former Minister of Finance and Resident Advisor at Thebe Investment Corporation, Laurie Dippenaar, co-founder and Chairman of FirstRand, Zyda Rylands, CEO of Woolworths South Africa, and Lynn Paine, Professor and Senior Associate Dean, Harvard Business School.
Business and government
Nene: "Business and government must espouse common values and focus on the same things in order to build South Africa. I don't think we've done enough to find each other, because when we get an opportunity we use it for finger pointing instead of trying to be able to see the other party. Trust begets trust. Government and the private sector need to nurture their symbiotic relationship, as there are many with a vested interest in the success of the partnership and many of us who are keen to build our moral values and our country. There are things you can't exchange for anything. Trust is one of those, as is integrity."
Dippenaar: "In government we now have two factions – those that are actively promoting corruption and those that are fiercely fighting it. The bad guys will actively promote corruption and anybody that stands in their way gets removed or undermined. Is almost impossible to fix this problem without getting rid of them. However, it is important not to generalise about government corruption, as departments such as National Treasury and the South African Reserve Bank manage themselves ethically and have clean track records."
Dippenaar (On Amendments to the Financial Centre Intelligence Act): "As a member of the G20 Financial Stability Board and the Financial Action Task Force, South Africa applies international best practice on anti-money laundering and the prevention of financing of terrorism. It was recommended that we incorporate certain aspects into the Act after a 2009 review and include procedures for politically exposed persons, whereas now we merely operate under guidelines.
Trust is the new competitive differentiator for business. That's according to several business and academic leaders, who spoke at a recent GIBS Ethic and Governance Think Tank event.
If South Africa does not pass the Bill, we can be removed from the Financial Action Task Force, which will make our relationships with other international banks very difficult. In this event, local banks will likely investigate any politically exposed person with renewed vigour and enthusiasm. I'm not certain that the people objecting to this have actually done their homework and understood the situation."
Nene: "Corruption is a very successfully coordinated project. Even with sophisticated corporate governance guidelines for the private sector, and codes such as the Public Finance Management Act, corruption cannot be legislated away. While some middle managers are victims of corruption, others are active proponents of it."
Business and Trust
Nene: "Trust between business and its clients is so critical that if you slip, you get punished very quickly. In politics it takes five years before you get really punished. You can feel the pinch but you don't get the real punishment."
Rylands: "Building trust is a journey that starts with an incredible set of values, and is earned over time. While creating an ethical and trusted organisation starts with leadership, it cannot just be leadership that gives effect to the execution of the strategic vision. You must do it deliberately and execute through the business, so that it becomes a part of everyone's job and their performance contract, creating the correct collective accountability. Our reputation is outsourced to ordinary people (our staff) every day. You have to train and recruit for it. The more personal values and the organisation's brand values are aligned, the more it will result in increased staff retention."
Paine: "It takes a trustworthy person with a particular set of skills and competencies to build an organisation that is also trustworthy. Senior executives need a high capacity for responsibility under conditions of complexity and uncertainty. They need to be able to make ethics a central part of their decision making process in complex situations with conflicting responsibilities."
Dippenaar: "Values are more important than rules as they will guide people how to act in every situation. Staff will in turn reward the organisation with their trust. Trust is often taken for granted, but when it isn't there, there are dire consequences."
Trust and Ethics
Paine: "Many business leaders attempt to deal with ethics by outsourcing it to consultants. That doesn't work at all. You have to get to the level of the people making the decisions. Often misconduct can be a result of a lack of competency – you have to build values and competency together. Creating an open environment where people aren't afraid to bring things forward is also important in order to assist them to be able to solve problems they encounter."
Rylands: "Messages encouraging ethical behavior by leadership need constant reinforcement to build trust. Leaders cannot simply abdicate after they have spoken. You have to act and check at all levels of the organisation. Leading by example permeates everything and you must be consistent in everything you say and do."
Dippenaar: "Leaders should attach tremendous value to the tone they set. Everything the leadership does filters throughout the organisation. Every action is a signal you send out."
Paine: "While business leaders have economic, legal and ethical responsibilities, they need to make decisions that are simultaneously sound in all three of these components in order to build a long-term sustainable organisation. Ethics can encourage us to think in new ways and can force creativity and innovation."
Trust and Youth
Rylands: "Sometimes we miss the opportunity to talk, to help the youth to find their own solutions to their own problems. Finding ways to work with people and engage with the youth should be the focus of our collective efforts."
Nene: Young people need us to firstly trust them with their future and to work with them to build that future. We all have been there. We were a very difficult bunch. Unfortunately when the environment is as it is now, it is very easy for some of these violent (university fee) protests to flare up, as there are people who can potentially find fertile ground. Government's proposal is actually something we can work with; but it seems some people have already taken a decision that they are going to oppose everything."