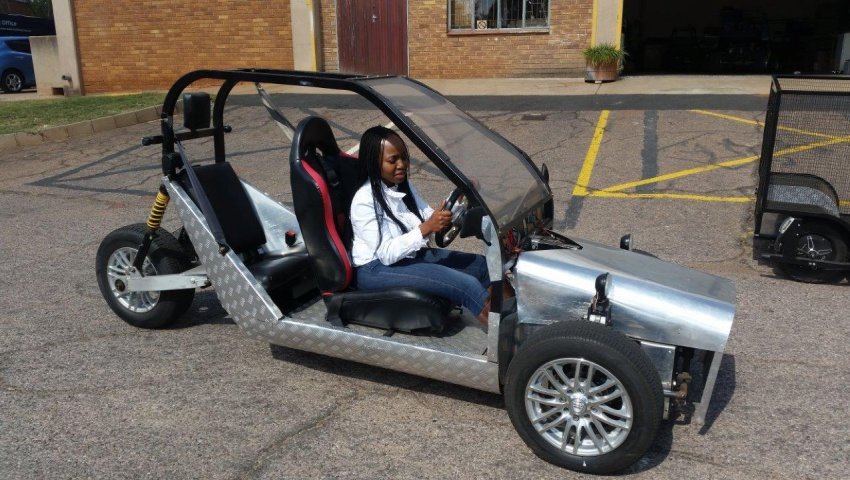 Like Fisher, the approach being touted by Pretoria-based electric vehicle – or EV - company GridCars is that it is not sufficient to make EVs available to South Africans, you also have to create the infrastructure to support the industry.
History tells us that with the invention of the starter motor and the discovery of oil in Texas, the US car market became dominated by petrol cars, pushing electric, as well as alternatives like steam and biofuels, into the cold for over 100 years. But now, says GridCars founder Winstone Jordaan, we are heading into another electric age. "The future is electric, there is no doubt in my mind," he told Acumen from GridCars' factory, housed in Pretoria's CSIR campus.
This view is supported by Carel Snyman, Senior Manager in charge of green transport at the South African National Energy Development Institute (SANEDI). "The timing right now is perfect," Snyman told Acumen. "There have been peaks in interest in alternative transportation over the years, but the most viable are EVs." On the same day he made this pronouncement, Snyman met with National Treasury. "I was telling them we could drive on solar energy in South Africa," says the man who was previously responsible for Eskom's Electric Transport Programme.
In his book, 'Made in America', author Bill Bryson recounts the contribution to the US car industry of one Carl Graham Fisher, who drove the building of roads across the country, including the first coast-to-coast highway.
At a time when Eskom CEO Brian Molefe's 'anti-renewables' pronouncements are priming the country for a policy debate on the future of renewable energy, the idea of 'driving on sunshine' is certainly topical. "It's often said that Eskom doesn't have enough energy, Eskom does have enough energy," says Jordaan. In fact, Molefe recently stated that the utility had 'surplus capacity'. Enough to power an EV revolution?
"Eskom doesn't have enough energy at the right time," points out Jordaan. "Eskom has a distribution problem or a balancing problem. In principle, in the middle of the night we have plenty of electricity. We've done calculations to say that if we charged electric vehicles overnight we could charge one million EVs every single night without any impact to Eskom."
Notes Jordaan, who is currently enrolled at GIBS as part of the Enterprise Development Academy programme: "Right now the problem is people just plug the cars in whenever they like, and charge at central points. It's part of a learning process."
Educating consumers starts with observations like this: "The cost of electricity per kilometre versus the cost of petrol per kilometre is between a tenth and a fifth. So if you were paying R1000 a month for your fuel, you'd be paying R100 a month [driving an EV]."
Another consideration, says Jordaan, is the fact that the cost of petrol and diesel is outside our control. South Africa's yearly fossil fuel consumption is about 20 billion litres, he notes. "The import cost is around R135 billion and the retail value R280 billion, roughly the same as the income we make from selling all our resources. Just think if that went up by 20% next year?" But electricity is produced locally, "so the more vehicles we can displace from our fleet of 9-million into EVs the better we can introduce economic stability and certainty".
Being part of the solution is a driving mantra for Jordaan's approach to building the industry in South Africa, which Snyman says has only between 300 and 400 EVs on the road currently, either BMW i3s or Nissan Leafs.
Three-pronged approach
Like Carl Graham Fisher in the US, Jordaan is playing a long game with a focus on building the infrastructure to support EVs.
"There are three things we do at GridCars," he explains, "we write software, we build charging hardware and we build vehicles. We cycle between the three, depending on the interest." To be anything but flexible at this point would be foolhardy. "We have to be agile. We have to be able to focus on the different aspects of the industry and focus where the industry is lacking."
Ultimately Jordaan sees GridCars as a vehicle manufacturer of their commuter car 'EVE'; but there is no point creating something for a market that's not ready. "In order to build this industry we have to have hardware, charge points, and if you don't build all three legs at the same time then you'll never have stability," he says. "Other people were not prepared to build those things, so that's where we stepped in."
The end game
During the interview, I had the pleasure of test-driving EVE. She proved a nippy ride that cornered neatly and handled hills with aplomb. GridCars also has a three-wheel delivery vehicle, which packs even more of a punch.
Largely a metal frame with an engine currently, EVE needs close on R100 million in development. This substantial cost is one of the reasons why South Africa's much-hyped Joule EV never saw the light of day. Optimal Energy, the firm behind Joule, went bankrupt in 2012 after spending R350 million.
The legacy of Optimal Energy continues to impact GridCars. "Every time we ask for funding we're told 'look what happened to Joule', so we've had to get to this level on our own. We are now at the point where we don't have to justify that we are not a flash in the pan [with revenue being generated by the software and hardware arms]. We really know this technology and we're going to build something that will, ultimately, become a commercial vehicle on the road."
Does South Africa really need a locally produced EV? Absolutely, says SANEDI's Snyman. "If we don't produce here we'll be colonised by people coming from elsewhere and then building what we can locally and then selling to us. We have a window of opportunity where Africa can start pulling itself up from its boot straps," says Snyman, whose role is to help create a favourable environment "for these vehicles to enter and be competitive"; hence ongoing discussions with the DTI to reduce import tax on EVs.
Jordaan's EVE is not as fancy as existing models or the Tesla Model 3 EV, which is due in South Africa in 2017. EVE is a true commuter car. Designed for one person, it would be 100% electric with a range of 80km.
Range, admits Jordaan, is still the biggest challenge to EV manufacturers. Fortunately, there are about 60 charge points between Pretoria and Joburg alone, he tells me, plus numerous points in office parks and shopping centres, like Melrose Arch. BMW, with whom GridCars has worked to establish public charging points, "actually has an App in their vehicles with a spider graph around you which shows how far you can drive in any direction with your current charge level, and it shows charge stations within that range. Great for city driving."
Nuts and bolts
The interview wrapped up in GridCars' workshop, where conversion was underway on a single cab bakkie from full petrol to full electric. As Jordaan and his mechanical engineer, Marius van Vuuren, explained the complex process, a good humoured picture emerged of a small company populated by people doing something they love. They enthused about buying new vehicles and taking them apart; very 'Big Bang Theory' I thought, a view supported by Jordaan's disclosure that he is, by education, a physicist. "Like Sheldon Cooper?" I ask. "Yes," he says, rolling his eyes.
A graduate of Rhodes, Jordaan studied physics, mathematics and computer science, all of which have served him well on this journey which started "when I was about 10". He got serious around 2002 and started GridCars six years ago: "From 2010 I started not just putting money in but also paying others to work for me and grow the business and get us to the point where we can start being profitable."
There is a big picture view to GridCars' plan of action, a 'Fisher-esk' approach if you will, and Jordaan is confident it will pay off.
"The future does lie with EVs, there is no doubt. The debate for me lies in timelines," he says. "Be it in three years or 20 years, EVs will claim their rightful place in the automotive landscape." So watch out for EVE.