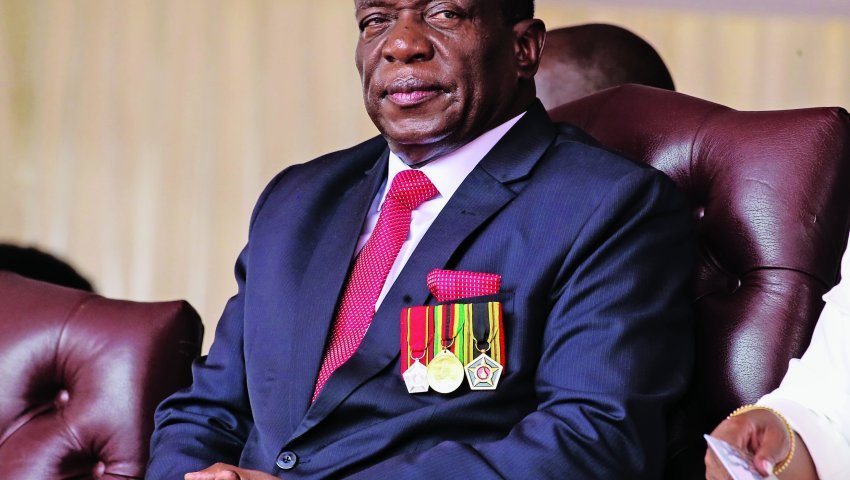 Mnangagwa, propelled to the presidency by the army's ouster of long-time leader Mugabe last November, starts the new year facing his first election and an economy that has halved in two decades, leaving a record one-in-nine people without work and millions mired in poverty.
"I believe as a deputy to the former president he had a clear view of the shortcomings of the boss which I am sure he will aim to correct," Sifelani Jabangwe, President of the Confederation of Zimbabwe Industries (CZI), a business lobby group, told Acumen. "If he doesn't, the economy will stagnate."
Nicknamed Ngwena, which is Shona for crocodile, Mnangagwa was Justice Minister when ZANU-PF supporters forced thousands of white farmers off their land in 2000 and was in cabinet when the government was taken to the Southern African Development Community Tribunal by farmer Ben Freeth over the forcible acquisitions.
Ever-present in cabinet since 1980, Mnangagwa was one of two vice presidents when Mugabe's government passed the Indigenisation and Economic Empowerment Act, under which all foreign-owned business had to cede 51% of their shares to black Zimbabweans as part of a drive to increase black ownership in the economy, 27 years after independence.
Those policies and violence during elections after the 1990s dried up domestic and foreign investment and made Zimbabwe a pariah, leading to sanctions from former colonial power, the United Kingdom, the United States and the European Union.
From 2000, the economy imploded after independence leader Mugabe allowed a breakdown in the rule of law as protests against economic decline intensified. The invasion and occupation of white-owned farms accelerated the decline of an economy long lauded as one of the region's brightest prospects.
A narrow gap
Analysts say Mnangagwa has a small window within which to arrest Zimbabwe's precipitous decline by avoiding cosmetic changes at a time when neighbours such as Zambia and Mozambique have become some of the fastest growing economies in Africa and the world.
Inaction means "…we continue on a slippery slide of prolonged economic slump. The tragedy being that we miss out on a recovery that is lifting up most African economies," said Neville Mandimika, Africa Analyst at Rand Merchant Bank. "We are cautiously optimistic about Zimbabwe's economic prospects. The political developments have raised hopes of international investors but that hope has to be met with pragmatic economic solutions."
Thus far, Mnangagwa has been making the right noises. In his first state of the nation address in late December, he declared Zimbabwe open for business and said his government wanted to build "a free and transparent economy" that welcomed foreign investment.
The CZI says those declarations need to be accompanied by specific actions to improve the business environment.
"The new administration needs to address the issue of creating a business and investor-friendly environment by addressing issues relating to the ease and cost of doing business," Jabangwe said, noting some progress since Mnangagwa took over. "So I believe we will certainly make economic improvements."
Record hyperinflation in 2008 devastated savings and helped destroy the country's formal sector leaving many industries operating around 30% of capacity or below. Millions of Zimbabweans left the country in search of economic opportunities, the majority of them in neighbouring South Africa.
Currency crunch
The government eventually adopted a basket of six foreign currencies led by the US dollar after Zimbabweans abandoned the local dollar as inflation peaked at about 79.6 billion per cent in November 2008. The net result has been a flood of imports, particularly from South Africa.
Businessmen say the government's first priority among a myriad of problems must be to solve a crippling currency shortage which has seen Zimbabweans unable to transact sleeping at bank automatic teller machines in order to withdraw money, limited to $50 a week at one point.
The CZI groups what's left of Zimbabwe's once-powerful manufacturing sector. At its peak, it contributed as much as 25% of Gross Domestic Product (GDP). The CZI says one solution would be to adopt the South African rand as the main currency, as opposed to the US dollar which has made the country's few remaining exporters uncompetitive.
In one of the first acts of the new administration, Reserve Bank of Zimbabwe Governor John Mangudya urged increased usage of the rand, suggesting Mnangagwa's regime might be prepared to reverse some of Mugabe's policies and offering hope it would be more reformist in managing the economy.
"We believe we need a softer currency as trading in US dollars makes us uncompetitive, given the other inefficiencies that we have. We are looking at how we can encourage other economic players to trade predominantly in rand," said Jabangwe. "The rand is already in the basket of currencies that we use, so we need to promote its greater use in local transactions."
But RMB's Mandimika says adopting the rand should be seen as a temporary solution. He argues that Zimbabwe must eventually build enough confidence to bring back its own currency "to act as a shock absorber as it refocuses its economy."
Glimmers of hope
In another promising sign, the first budget under the Mnangagwa presidency presented in the first week of December – two weeks after Mugabe's ouster – was generally welcomed by economists and the business community. That followed the announcement of a cabinet of 22 ministers, compared with 29 under Mugabe, and six deputy ministers versus 25.
Though Patrick Chinamasa was retained as Finance Minister, the private sector generally saw positives in the budget after years of promises and inaction.
"The policy thrust announced by the Finance Minister in his 2018 national budget presentation, including fiscal consolidation measures, amendment of the Indigenisation and Economic Empowerment Act and security of tenure over agricultural land are very positive," said Charles Msipa, Managing Director of Schweppes Zimbabwe, a manufacturer and distributor of Coca-Cola beverages including Mazoe.
"Implementation of these measures will contribute significantly towards an enabling environment for economic rebound," he added.
IHS Markit Senior Economist for Africa Alisa Strobel highlighted the budget's attempt to address the country's high-risk perception and strategies to find a solution to the country's high debt burden. But she says more needed to be done to bring down government costs.
"Critically, proposed government employment costs are still too high to address the country's fiscal imbalances," she said.
Jabangwe says his organisation was consulted in the preparation of the budget in which Chinamasa amended some old standing anti-business laws including the Indigenisation and Economic Empowerment Act and offered increased security of tenure over agricultural land.
Back to the land
Business had also been impressed by Mnangagwa's Command Agriculture project, said Jabangwe, referring to a drive to revive the farming sector which the government has lauded as a success.
Aside from addressing the security of tenure issue, the government also promised to pay former white commercial farmers whose land was seized without compensation around 2000, tackling a key issue that has polarised relations with the United Kingdom in particular and the west in general.
The agriculture project showed "…he is good at planning and implementation so we await to see what he can achieve now that he has the full reins of government," said the CZI boss. "His inauguration speech followed by the tempo of the budget that has been unveiled also reflects a willingness to implement actions that will take the economy forward."
There are other indications that Mnangagwa won't blindly follow some of Mugabe's nationalistic policies such as indigenisation under which the government demanded foreign investors only take minority interests in designated sectors. Only platinum and diamonds remain under those rules, according to new regulations passed after he came into office.
Economists say Zimbabwe could well be a quick turnaround story if the correct policies are pursued. The country contains the second-largest platinum reserves in the world after South Africa, most of them untapped. In his first foreign visit as president, Mnangagwa called on investors to come and exploit 19 other key mineral deposits, among them coal, gas, chrome and gold.
At a function in Pretoria where he was mobbed by thousands of Zimbabweans, Mnangagwa also called on his countrymen in the diaspora to return and help rebuild the country.
Election ahead
Analysts say conducting credible presidential and parliamentary elections next year will help Mnangagwa build confidence in the economy, enabling him to attract foreign investment and donor support after he chose not to include the opposition in his interim administration. The elements may also play a part.
"Greater scope for re-engagement with the international community, particularly with concessional lenders, increases the likelihood of a successful re-introduction of a local currency," BMI Research, part of the Fitch Group, said in a report. "The weather is also a major risk with the country having seen several droughts over the last two decades which have had a devastating impact on the important agricultural sector and there is always a risk of a recurrence of poor rains."
The International Monetary Fund (IMF) has urged Mnangagwa to tackle government spending, especially on salaries which currently gobble up about 90% of its revenue, implement structural and economic reforms and resuscitate relations with international lenders to help unlock much needed foreign investment.
Re-engaging foreign support is vital in tackling a total external debt mountain estimated at about $9.3 billion or 58% of GDP at the end of last year. Foreign debt arrears currently stand at $1.75 billion with about 70% of that in arrears, effectively barring any return to borrowing from international markets.
Its main creditors are the IMF, the World Bank, the Abidjan-based African Development Bank and the European Investment Bank.
The government appears to be making some headway in tackling the arrears. In December, the Cairo-based Africa Export-Import Bank (Afreximbank) said it would provide up to $1.5 billion in credit to the country and provide guarantees to foreign investors seeking to invest there after Mnangagwa pledged to implement reforms that would stimulate job creation.
The funding excludes a $600 million line of credit from Afreximbank, which, along with the Chinese, has been one of a few lenders to continue lending to the country in the last few years.
Msipa, whose business weathered the 2008 implosion and general decline since 2009, warns that a failure to deliver on the promises will result in a re-run of Zimbabwe's lost two decades since 1999.
"The economy is in a very fragile state, characterised by an acute shortage of foreign exchange, insignificant levels of foreign investment and, absent implementation of urgent reforms, is bound to contract and deteriorate further, resulting in worsening unemployment, poverty levels, social unrest and movement of citizens to neighbouring countries in search of greener pastures."
"...he had a clear view of the shortcomings of the boss..."

"We are cautiously optimistic about Zimbabwe's economic prospects"

"...he is good at planning and implementation..."

"...a failure to deliver on the promises will result in a re-run of Zimbabwe's lost two decades since 1999"