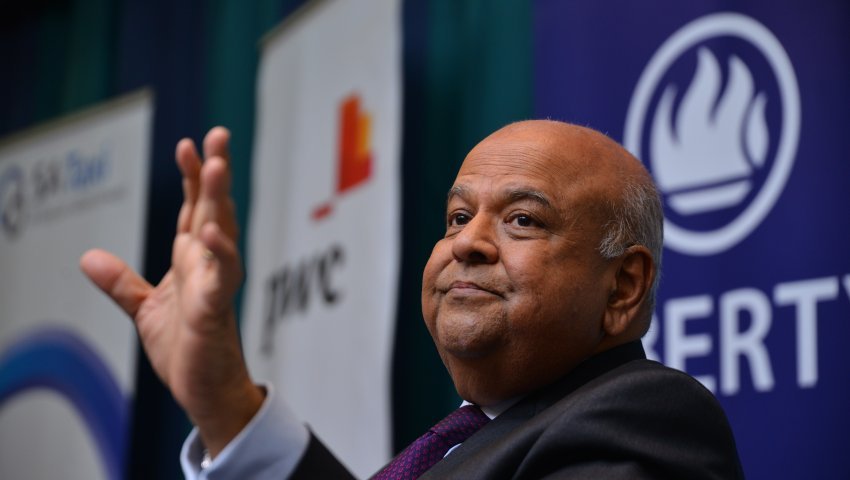 Gordhan was speaking as the ANC's National Elective Conference was dawning and with speculation rife as to who would walk away with which coveted title. Risk analysts to ratings agencies, political commentators to policemen held their own views of the outcome, but for Gordhan, it was less about the person in the hot seat and more about the uphill battle to heal the nation – psychologically and economically – in the wake of the bruising encounter.
"We've lost the shine we had as South Africa," he admitted. "The Mandela shine." It's time to find that again. "If we can all become inspired, for a couple of years, to do the right thing, do good and build the solidarity we require, then we have more than what it takes," he said.
Just 'how' to do that made for an unconventional GIBS gathering, which often turned the spotlight from the guest speaker to the audience. At one point, having spin-doctored himself out of outlining how individuals should be driving civil engagement, Gordhan asked the audience to share ideas. He sat back, pulled out his phone and proceeded to video a room buzzing with ideas.
With his microphone still on, Gordhan could be heard remarking to GIBS Professor Nick Binedell: "Look at the buzz!" When the room was eventually called to order, Gordhan said: "This is what an activist forum looked like in the 1980s. I'm serious. And if you could hear yourselves, it's amazing. The amount of energy you just generated in five minutes."
Societal mobilisation is key
The world is familiar with Gordhan's steady financial hand, first as commissioner of the South African Revenue Service from 1999 to 2009, and then as Trevor Manuel's replacement as finance minister in 2009. Who could forget his fateful reappointment to the Finance Ministry in December 2015 following the Nenegate saga, followed by his controversial axing in March 2017? But the true mark of the man lies not in his political credentials but in his activist past, and it is this struggle background which Gordhan is now tapping into to rally South Africans.
In his youth, Gordhan knew the inside of a jail cell for fighting out against injustice and today he believes the same degree of civil engagement is necessary to reclaim South Africa's future.
"Shame and guilt are not going to shift those who are arrogantly in power, what is going to shift them is societal mobilisation," he told the GIBS Forum. "What is going to shift society to be mobilised is a keener awareness – going beyond just connecting dots – about how systems like this work… to actually inform the kind of patronage processes, or, to put it more simply, the stealing and neglecting processes."
What is clear from books like Jacques Pauw's The President's Keepers, Adriaan Basson's Enemy of the People or Crispian Olver's How to Steal a City, the rot runs deep, so a collective effort from society is essential. In this respect Gordhan did not shy away from telling off the well-heeled GIBS audience by saying: "The upper middle classes, black or white, are worried about where their next million rands or dollars needs to be kept so 'it is safe', and who is going to get it out for them, and what commission is going to be charged. The other conversation going on is 'are my children safe' and are they going to be properly educated here, or do I need to take them somewhere else? That is also a conversation – I can see from some of the nodding heads – that is beginning to happen."
Instead of these conversations, Gordhan called for debates around how to resist corruption and the abuse of power and how to go about revitalising the collective vision for South Africa. Of course, activism also requires money, which led Gordhan to highlight just one way well-to-do South Africans could help: "Let's crowdfund for civil society and give them the muscle they require when you think the cause is the right one, the leadership is right and they are doing the right things. That is one way of becoming involved."
Another way is to become more aware and mobilised into some form of action, akin to the levels of social engagement South Africa witnessed in 2016. It is this form of activism which Gordhan credited for keeping him and his two co-accused, Oupa Magashula and Ivan Pillay, out of jail when the National Prosecuting Authority charged them with fraud in 2016. "So thank you very much!" he said.
"The extent to which society is organised is," stressed Gordhan, "the extent to which there is a better power balance between those who hold corporate and political power and abuses of that power as far as citizens' interests are concerned. A higher level of awareness, a higher level of mobilisation, and getting more people organised in civil society and elsewhere places us in a better position to resist the abuse of power."
Business must stay engaged
While Gordhan was critical of the institutional and reputational damage caused to Brand South Africa by the likes of KPGM and Bell Pottinger in the ongoing state capture drama, he was keen to highlight the role business can play in this mobilisation process while still making the pointed comment that: "You can't keep the money in your pocket and think poverty is going to disappear."
Business, too, is complicit in the state capture rot and must be weaselled out as much as the government perpetrators, said Gordhan. "Every single scandal has an accountant, a lawyer, a financial institution – they are all involved. So the question of ethics, shame and guilt, and of being good citizens is a serious challenge in each institution."
Individual citizens must never become complacent in holding institutions to account, be it business or government. "There is one person, a Mr [Theo] Botha, who – by owning one share – goes around and keeps companies and CEOs and chairpersons on their feet. Imagine if all of us did that?" said Gordhan.
But business should not wait for the Theo Bothas of this world to knock on its door before cleaning house, they need to do this and more to really show a commitment to South Africa. Gordhan called for business to persist with the institutional involvement that started back in 2016. He said: "In 2016, partly out of self-interest and partly out of a kind of emerging national interest and identification with that, we built a remarkable partnership [between business and government] and key in that partnership was a level of trust; that we could work with each other and talk the same language."
The engagement was quieter in 2017, but now is not the time for complacency, said Gordhan, instead business leaders have to drive a deeper level of transformation. "What we need is a massive transformation in South Africa, not just in a colour sense. We need a whole new economic dynamism. We need to produce a generation of entrepreneurs, start-ups that will give us a competitive edge into the future. We have fascinating problems to solve which, if the best brains from all sectors come together, I believe we will crack and find innovative solutions. That is what business schools, by the way, should be spending half their time on," he said, glancing at Binedell.
There is much to be done if South Africa is to reconnect with the Mandela dream. "It's time to put the shine on again through the collective effort we can all make," said Gordhan.
Get polishing!
"Shame and guilt are not going to shift those who are arrogantly in power..."

"You can't keep the money in your pocket and think poverty is going to disappear"