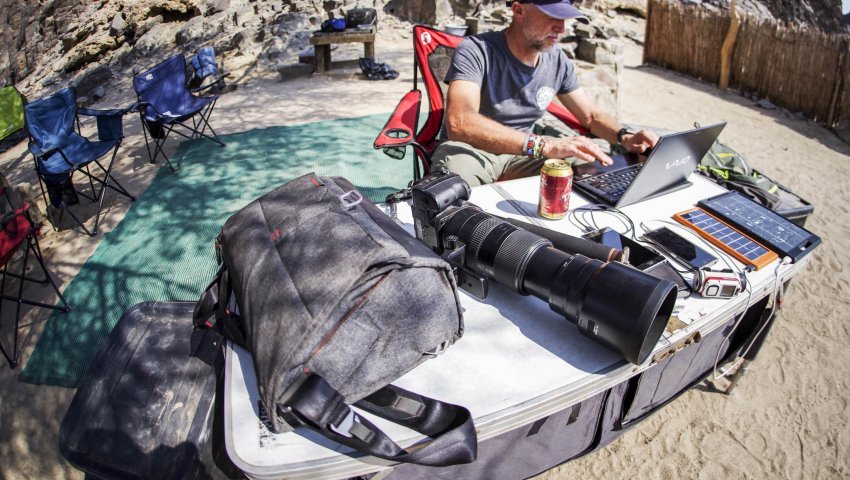 I went there to find peace in the hardship of desert travel and the company of desert peoples. I set myself a goal on these journeys, and, although the goal itself was unimportant, its attainment had to be worth every effort and sacrifice... No, it is not the goal but the way there that matters, and the harder the way the more worthwhile the journey.

- Wilfred Thesiger
Few people know that Wilfred Thesiger – acclaimed author of the epic travel journal Arabian Sands – also went by the moniker Mubarak bin London. It translates as the "Blessed One of London", and was bestowed upon him during his two great crossings in the late 1940s – on foot and by camel – of the very desolate Arabian 'Empty Quarter'.
Thesiger's was not the first recorded traverse by a European of the bleak Rub' al Khali; that honour befalls Bertram Thomas, guided by the Omani Sheikh, Salih bin Kalut al Rashidi al Kathiri in 1930-31. Measured at over 1 000km from coast to coast, and covering a staggering 650 000km2, the route starts from the Gulf of Oman and finishes on the shores of Qatar.
Thesiger, however, has been elevated to legendary status, thanks to his widely read tales of derring-do, and I spent numerous instances during our Dunlop Beyond the Desert Edge Expedition mulling over his writings. There were also numerous parallels between Thesiger and our own 'Adventurer-in-Chief', Peter van Kets.
Even though we did not experience the 50oC temperatures prevalent in Arabia's desert, Peter van Kets nonetheless had to cope with searing heat on the bike. Our MTB ride came to a gruelling 1 170km, trumping the distance of the Empty Quarter crossing (but at least we had Isuzu 4x4s as back-up, rather than garrulous camels).
Namibia certainly equals Arabia when it comes to remoteness, and on the first five days we literally only met other people once. This was on the first morning, when we passed through an itinerant Himba village, and spent an hour speaking to these incredible people leading a feral existence upon the plains beyond the Cunene River.
Then there are wild beasts, where I'd rate Damaraland and Kaokoland as way more dangerous when compared to the Arabian Peninsula. On the positive side, the chances of bumping into contemporary war-like tribes were highly unlikely.
Even the great Thesiger had to pay the bills and was forced into accepting funds from an oil company to pay some of his way. So how do you build a business case that gets you into the great unknown but doesn't bankrupt you in the process?
Pay-as-you-go: financing an expedition
Dunlop Beyond the Desert Edge was the first in a series of Beyond Expeditions ventures to be undertaken by Peter van Kets and me over the next four years. Each mission will highlight specific regions under environmental threat, with us undertaking human-powered journeys never done before.
Van Kets, me as the photo-journalist and a small media support team first tackled the extreme #BTDE expedition by fat-bike and MTB, riding a total distance of 1 170km from Angola to Swakopmund.
One of the key considerations when undertaking an expedition such as this is financing, and your best means of doing so is through corporate partners that benefit as much as you do from the exposure generated. In our case, Dunlop was a perfect fit; they needed their new Grand Trek tyre model tested in a real-world scenario, while simultaneously generating content to use in various media applications.
A relatively small investment for them meant a big boost for us, allowing us to involve other sponsors by promising them a guaranteed outcome. Isuzu was the perfect vehicle fit – except that we had to scramble to get the correct tyres from Japan in a few weeks.
A key aspect is to then find sub-sponsors that are able to dovetail with your main brands in areas that are non-competitive. Here we were able to involve Hi-Tec, Wilderness Safaris, Spar, Giant Bicycles, Holdfast, DripDrop and a number of other funders, which all contributed key kit required during our trip, thereby reducing our actual costs to a minimum.
Finally, it is imperative to have a valid charity angle in order to engage brands with potential CSI spend. Both Peter and I are official ambassadors for Children in the Wilderness and this was, therefore, a perfect fit.
A major part of Beyond the Desert Edge was therefore aimed at raising funds and awareness around this charity organisation, and promoting its focus on creating sustainable solutions for conservation in wilderness areas. (And this is where you too can pitch in...) Any donations from SA citizens will receive a tax-deductible 18A certificate:
Account Name: Children in the Wilderness (Mkambati)
Bank: Standard Bank
Account Number: 023031735
Branch Code: 001255
Branch: Rivonia
Swift code: SBZAZAJJ
More information at www.childreninthewilderness.com


Getting the 'money shots'
In order to add value for the sponsors of our expedition, it was necessary to capture unique imagery and video footage that would appeal to magazines and broadcasters, both locally and internationally. The moments below portray what truly stood out for me during our Dunlop Beyond the Desert Edge journey...
The preparation ~ the journey to Serra Cafema
To get from Cape Town to the far-off reaches of the Cunene River valley, was a massive 50-hour adventure in itself. As we approached the Angolan border, the landscape rucked up in a series of dramatic ridges and outcrops. It was pretty much as if some ancient god had become angry with the creationist process, and dumped a final consignment of stones, rocks and geological rubble in a haphazard fashion. During this process, a dramatic and magnificent mountain desert took shape and, right now, it seemed like the kind of place that would kick your ass if you did not pay due attention. It was undeniably majestic, though, with loads of attitude, and the added cachet of being a personal terra incognita for both Peter van Kets and me.
All systems go ~ cranking from Cunene
Our lunch stop on Day 1 provided an excellent counterpoint to the gruelling ride so far, and we perched on a towering granite outcrop, with infinite views across bristle-grass plains towards the Zebra Mountains. All around, an utterly vast and expansive desert shimmered beneath an evocative midday sun, with not a single sign of human civilisation in sight. Other than a short interaction with a local Himba family at a decrepit kraal on the edge of the Cunene, we had seen no people. And little did we know that over the following four days, it would be as if we were the only people left here on Planet Earth.
Animal encounters ~ pachyderm plains
Our first face-to-face encounter with elephants is in the spectacular Hoanib River. We first see a cow and young calf browsing along the river bank, but while I'm shooting, a couple of giant desert bulls appear on the opposite bank. We're slap bang in the centre of the herd and all we can really do is sit tight. Two of the desert-adapted elephants lumber right up to the Isuzus, sniffing inquisitively with their trunks held high. It is a truly incredible encounter with these gentle creatures, who soon lose interest to graze on the surrounding ana trees.
Desert proper ~ the coast of skulls
The Atlantic roils a mere 46km downriver from Hoanib, but it is a long and dusty journey over powder-dust floodplains and via extensive coast dunes. The indistinct track winds ever closer to the tempestuous seas, passing through bleak and inhospitable terrain. Our first stop is the seal colony at Möwe Bay: it is massive, and there must be at least 5 000-10 000 seals. Dozens of black-backed jackals skulk about, intent on snatching baby seals. Even more impressive – but obviously way scarcer – are the brown hyenas that frequent these wilderness shores, preying like wind-whipped werewolves on the seal population.
Civilisation beckons ~ rocks and hard places
The canyon bangs us into a narrow and craggy rock funnel, with sawtooth ridges and teetering rock towers all around. It is as if we're entering a Middle-earth Mordor, with calcium encrusted seep fountains drooling from the cliff walls as we crank ever closer to the Huab River course. There are elephant tracks everywhere, not to mention giant lion spoor, so all our senses are on high alert as we bomb the bikes along this veritable rock garden MTB track. Our camp is the remote Save the Rhino Trust camp site on the edge of the Huab, and we pitch tents under a spreading and ancient acacia, with roots probably tapping dozens of metres into the giant water aquifers below the sand.
Follow our BeyondExpeditions Facebook page, or connect to our social media feed at www.petervankets.com or www.jacquesmarais.co.za
Even the great Thesiger had to pay the bills...

...find sub-sponsors that are able to dovetail with your main brands...