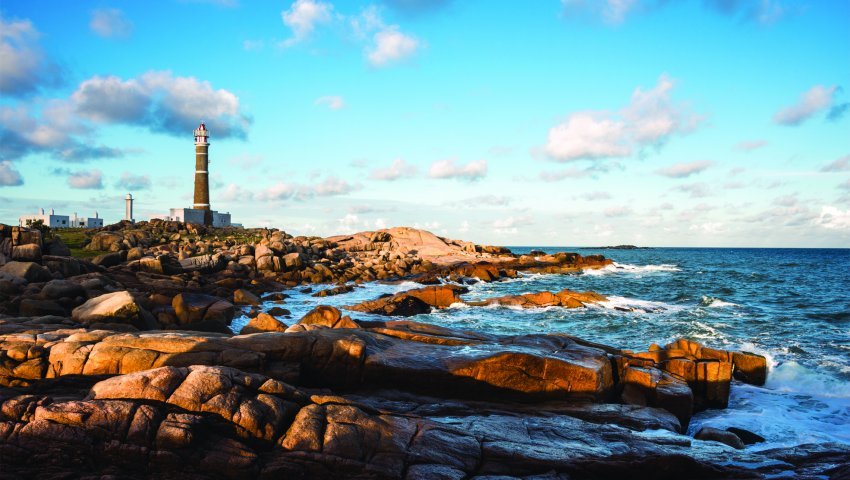 This small South American country of just under 3.5 million inhabitants lives on a tough block. To the north is the continent's behemoth Brazil. Across the River Plate estuary is Argentina. For most of the 20th century these two regional powerhouses have experienced wild swings in economic and political fortunes and too often Uruguay has been knocked about by the turbulence.
Geography and history mean Uruguay is inevitably closely integrated with its two bigger neighbours, especially Argentina. Too often, this has presented difficulties. Uruguay's last big recession, back at the start of the millennium was almost wholly the result of Argentina's economic implosion, which followed 2001's record breaking debt default. It arrived with the Argentines who caught the ferry over from Buenos Aires in order to access funds stashed away in the country's banks.
But times are changing. Currently Brazil is experiencing its worst recession since the Great Depression in the 1930s. Argentina is once again in the doldrums, experiencing a deepening slump in industry and consumption even as it battles rampant inflation.
There is an apocryphal tale about the Uruguayan who asked an economist what his country should do to boost economic growth. "Move!" came the reply.
Despite its neighbours' woes. Uruguay's economy still managed to expand last year, at a smaller rate than it had become accustomed to but nevertheless an impressive result considering the problems in the neighbourhood and the decline in commodity prices.
"Uruguay has suffered from the slowdown in the commodity cycle, meaning tax increases and cutbacks. But it is weathering the storm better than Brazil and Argentina. And this is because we have been better at implementing policies that attract investment," says local political analyst Oscar Bottinelli.
Pragmatism vs. Populism
In a region still blighted by the sort of populism that has once again led oil-rich Venezuela to the brink of ruin, Uruguay stands out as a beacon of common sense implementing a pragmatic policy mix that encourages inward investment while at the same time winning high levels of support from the country's voters.
The proof of this can be seen in the countryside. Here agricultural production is booming and much of the investment capital comes from Argentine farmers who since the millennium have been reluctant to invest in their own country so suspicious are they that the government will take their profits from them in higher taxes.
Other sectors of the economy have also thrived in the last decade during which direct foreign investment flows into the tiny economy at times outstripped those into far larger Argentina. To give just one example, European companies have been welcomed in helping create from almost scratch a world class pulp industry that makes Uruguay a player in paper production chain.
This has created a resilience that has seen the country win praise from the World Bank for the ease of doing business there and boosted confidence that regardless of the woes of its two neighbours the country can thrive as an open trading economy, a member of the dysfunctional regional trade bloc Mercosur but nevertheless looking out across the Atlantic to the wider world.
Most impressively this achievement has taken place under the country's first ever left-wing government which says it wants to facilitate capitalism so that it can redistribute some of the profits to the country's poorest citizens.
During more than a decade in power, the Broad Front alliance has proved successful in both. Official statistics show Uruguay's economy has grown on average 5.6% a year since the Front came to power in 2005 while at the same time the proportion of the population living in poverty has fallen from 40% when it took power to just over 10% currently.
Democracy rules!
Happily for investors this policy mix is set to remain largely intact if and when the Front is finally voted out of power. Underlying Uruguay's recent success is one of the region's most robust democratic systems which, while competitive, is fought largely on middle ground beloved of investors who must take the long view.
While the Front has adapted the economic policies of its right-wing opponents, these can also claim to have been the forerunners of its social policies. Back at the start of the 20th century it was President José Batlle y Ordóñez who set up a comprehensive welfare state before most European nations attempted to. Through all the vicissitudes of the intervening century this has retained broad political support meaning Uruguay does not share the rancorous, class-based, political polarisation too many of its neighbours suffer from.
"Uruguay lacks the political polarisation you see elsewhere in the region," says political analyst Bottinelli. "The country has a long democratic tradition. There was an 11-year interruption for military rule in the 1970s, but since its return the depth of our democratic tradition and strong civic spirit has been evident. This means that while certain things changed when the current government came to power there was also much continuity and when they leave power there will be a strong degree of continuity again and this provides reassurance to investors."
The social result of this political consensus is South America's most equitable society, a historic achievement on the planet's most unequal continent, making its middle class proportionally the largest in the region. The country has also become a liberal torch bearer on what remains a socially conservative continent as illustrated by its decision not just to legalise marijuana, but place the state at the heart of the newly liberalised drug's supply chain.
No beefs about beef.
But challenges still remain. Despite diversification the country remains dependent on its two next door neighbours for export markets and the commodity sector is still a dominant player. For all the changes during the intervening years, a gaucho from the last century would still recognise the country's economy in which beef production remains a significant component, though in recent years soy has become a powerful new player in the countryside.
As Argentina's national beef herd has shrunk, thanks to the misguided policies of the Kirchner administrations, Uruguay has rushed to fill the gap, becoming a major beef exporter to Asian countries and winning a significant slice of the lucrative Chinese market. Though only one fifteenth the size of Argentina, Uruguay exported almost half as much beef again as its bigger neighbour last year.
The country is now, along with Paraguay, seeking to carve out a name for itself as a prime exporter of natural, hormone-free, grass-fed beef. A drive in recent years to boost the economy's productivity by investing in technology has already helped such traditional industries as beef. A government programme that funds a state of the art electronic tagging system for cattle means the country's national herd has made Uruguayan beef highly sought in Asia where sanitary concerns mean traceability is a requirement of many customers.
But the ultimate goal of the government is to turn Uruguay into a high-tech hub for foreign companies looking to set up within the high trade barriers of the Mercosur bloc. Montevideo has had some success in building a software and internet start-up ecosystem, the latter often driven by Argentines fleeing the economic chaos of their home country. Now that a pro-business administration is in power in Buenos Aires this new sector could face competition from across the River Plate.
Infrastructure and energy
One measure designed to try and keep Uruguay's competitive advantage over its neighbours intact is an infrastructure investment plan unveiled in May of this year. President Tabaré Vázquez said the country would spend $12.37 billion on roads, energy, communications and housing with the government providing most of the funding in partnership with the private sector.
The plan will not only upgrade the country's infrastructure but the spending is also designed to offset the impact on the economy of the recessions in Brazil and Argentina. And with little slack in the labour market despite an uptick in unemployment there is an awareness among policy-makers that future growth will have to be driven by productivity gains that require better infrastructure.
Another key target of the government that has opened up new possibilities is the energy sector. The country has upgraded much of its electrical grid in the last decade but, following the likes of Portugal and South Africa, it is now making a serious drive to become a leader in wind energy. Over 90% of Uruguay's electricity already comes from renewable energy but with the majority of that hydro, the country remains vulnerable to droughts, hence the current focus on building wind capacity.
The country is also hoping that a recent drilling campaign off its coast will turn up deposits of oil and gas that could be exported. Multinationals have already taken part in the campaign which is helping drive inward investment in the energy sector alone to over $6 billion in the last five years alone, or roughly 15% of GDP.
It is investment narratives like these that have made Uruguay a regional darling of the investment community. Despite the country's small size, its economic development and political stability – and civility in a neighbourhood lacking in it - makes Uruguay a beacon of hope in a region once again witnessing political and economic turmoil. Though much has changed, Uruguay still deserves its title as the Switzerland of South America.
Business etiquette in Uruguay
Like most of Latin America, Uruguay's business culture is relatively closed. Uruguayans are less flamboyant than their Argentine and Brazilian neighbours which can leave them seeming stand-offish at first. But if you put in the effort, you can build lasting partnerships within one of the continent's most reliable business communities.
When starting off, remember lots of eye contact and do not be surprised if after a few meetings a hug replaces the salutary handshake. Like elsewhere in the region there is a premium placed on establishing trust between perspective business partners. So plan on spending plenty of face time with your contacts. Also Uruguayans do not much care for foreigners telling them their way of doing things is slightly outdated. Wait to be asked an opinion before offering up suggestions on how things could be done differently.
A knowledge of, or lacking that, an interest in, the country will go a long way. Uruguayans are aware that their nation makes few waves on the international stage but are nevertheless a fiercely proud people. Let your hosts know how excited you are to visit and how much you are looking forward to learning a bit more about the country. As elsewhere in South America football is always a popular topic, just never say anything negative about Luiz Suarez.
Much of Uruguay's business class speaks good English and is well travelled. But there are local customs to be observed. The business world is extremely formal but nevertheless punctuality is not highly valued. If you are arranging a business dinner, do not think of booking a table before 9pm or discussing deals over steak and wine unless your host initiates the discussion.