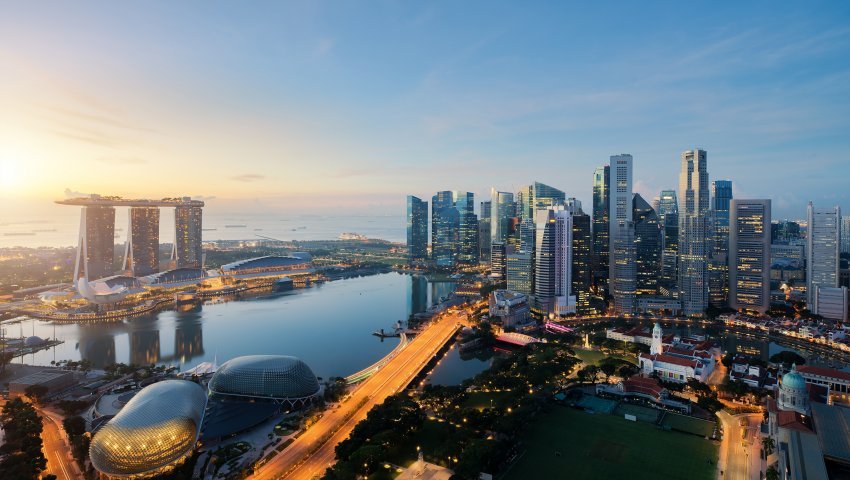 Singapore is a wealthy island city state on the southern tip of the Malay Peninsula. Home of the Singapore Sling – a potent gin-based cocktail – it has transformed itself over the last decade into a hip, high-tech business hub.
Its location is key. While neighbouring Hong Kong has long been seen as the gateway to China – a position that is becoming increasingly obsolete – Singapore's geographic location lends itself as a gateway to Asia-Pacific.
"No-one here just targets Singapore, entrepreneurs are focused on accessing Asia-Pacific," says Chris Reed, CEO of Black Marketing.
Singapore is a wealthy island city state on the southern tip of the Malay Peninsula. Home of the Singapore Sling – a potent gin-based cocktail – it has transformed itself over the last decade into a hip, high-tech business hub.
Chris has lived in Singapore for eight years and says the ease of doing business and the ability to move swiftly in and out of the city are what has kept him there, allowing his business to thrive. Black Marketing offers personal branding. Most of his clients are outside Singapore so he travels regularly to Hong Kong, Sydney and across Asia-Pacific.
"Everything works here, it's a phenomenal place to do business. I can land in Changi Airport Terminal 3, wave my passport through and in 30 minutes be in the city centre," says Reed.
Ease of doing business
Singapore is regularly cited as one of the easiest places to do business. It's currently listed number two on the World Bank's Ease of Doing Business ranking (New Zealand has the top spot). The actual process of registering a business is straightforward and can be done quickly and better still, online. Setting up a bank account takes longer – usually about two weeks.
Competitive tax rates are also a big draw. The highest tax rate is 22% for individuals and companies pay about 17%, but can apply for tax incentives, says Kim Leng, the Singapore director of TMG Group, which provides financial advice and services to companies around the world.
"Singapore has double tax treaties in about 70 to 80 countries which is wonderful for our clients expanding in this region," says Leng.
"In the UK I was paying 58% tax, here I pay less than 5%. They don't believe in taxing people. You don't pay tax on dividends, you can pay yourself dividends," says Reed.
And there is a lot of support for entrepreneurs and start-ups, whether they are local Singaporeans or foreigners. Reed says he has received grants to help him market his business overseas as well as additional funding for employing Singaporeans. It is worth noting that the local population is very well educated – in 2015, 52% of the non-student population held post-secondary qualifications and 28% held university qualifications.
"Every way you look they are trying to help – you don't get that kind of support in Malaysia or Hong Kong," he says.
A pocket rocket
For such as small place – 719 square kilometres – it certainly packs a lot of punch and that's a lot to do with recognising its own weaknesses and playing to its strengths.
"We don't have natural resources. What we do have is manpower and we are always trying to get people with the right knowledge to spearhead industry to the next step," says Leng.
The government spotted the growth potential of technology and fintech early on and worked hard to attract the big players to the region. It has paid off – Google and LinkedIn both have regional headquarters in Singapore. And in 2014, it launched the Smart Nation initiative to apply digital and smart solutions to improve business and life in Singapore. There are even grants for the elderly to teach them to use an iPhone and keep up to speed with the latest technologies.
"A lot of our Silicon Valley clients, when they decide to expand in Asia, choose Singapore because of what the government has done to promote technology," says Leng.
Manufacturing maintains a significant one-fifth share of the economy, dominated by electronics, biomedical manufacturing, engineering and chemicals. It is the world's third-largest oil refining centre. Singapore serves as a major regional hub for shipping, air transport, logistics and financial services. Other key emerging sectors include robotics, biotechnology and lifestyle products and services.
Singapore's political stability is essential for foreign investment. It practices a modified version of the Westminster Parliamentary system. Each parliament sits for a maximum of five years. The ruling People's Action Party has dominated since 1959, before Singapore became independent in 1965.
An interesting aspect of life in Singapore – and one that adds plenty of colour – is the multicultural mix. Singaporeans are made up of Chinese (76%), Malay (15%) and Indian (6%) people. While this led to some racial conflict in the past, today there is racial harmony and each group keeps its cultural traditions and rubs up quite happily against the others. You only have to walk through Chinatown and see Hindu temples and mosques sitting next to Chinese temples to appreciate this. Today, young Singaporeans see themselves as Singaporean first and Chinese, Malay or Indian second.
Out with corruption
A major cause for concern for foreign investors looking to enter markets in Asia is bribery and corruption – think India, Thailand, Myanmar and Vietnam. But Singapore maintains a zero tolerance policy for bribery. It was the British who established the city's Corruption Practices Investigation Bureau in 1952 and the body remains strong today. Any attempt to bribe an official can result in arrest. Singapore came seventh in the graft watchdog Transparency International's Corruption Perceptions Index for 2016, up from eighth place in 2015 – and it's the only Asian country listed in the index's Top 10 ranking.
So far so very good, so what are the drawbacks? Perhaps the key one is the cost of living – this year, Singapore retained its title as the world's most expensive city for a fourth consecutive year, according to the cost-of-living survey from the Economist Intelligence Unit. It found that Singapore was 20% more expensive than New York and 5% more expensive than Hong Kong. Compared to other Asian cities it offers relative value when it comes to domestic goods and personal care, but housing is hugely expensive and it is the most expensive place in the world to buy and run a car. Singaporeans are eligible for Housing Development Board (HDB) properties and 90% own their own homes, one of the highest rates of home ownership in the world. But foreigners are not eligible to buy HDB properties and renting can take a large chunk of monthly income.
For the last few years, Singapore's economy has slowed, worrying many that it might be in danger of entering a recession. But recent data suggests that it has turned that corner.
Labour market data released by the Ministry of Manpower in August suggest that companies in the service sector – which make up 70% of the economy – are coming out of a period of gloom and expecting more favourable conditions in the latter half of 2017.
What's more, people are investing more in businesses. Bank lending at the end of June 2017 was up 7.6% to S$635.5 billion compared to the previous year – the fastest pace of growth in two years.
A lot of this investment is thanks to the very upbeat manufacturing sector that is driving the economy. In June 2017, manufacturing surged 13.1%, well above the 8.5% predicted by economists earlier this year. Much of this success has been down to surging global demand for semiconductors and related equipment.
Optimism returns?
And this is making people feel more optimistic. A survey of business expectations released in August by Singapore's Department of Statistics found that 5% of firms expect more favourable business conditions in the second half of this year compared with the first half of the year. This is up from -1.0% the previous quarter and the first positive result after almost two years of pessimistic results.
But not all industries are doing well. The retail and food and beverage sectors are still struggling. In addition to lower demand, there is also the challenge posed by the rise of e-commerce. And the construction industry is also facing tough times – the sector shrank 5.6% in the second quarter of this year.
The message to would-be investors seems to be, choose your industry wisely. There is still business success to be had, but not in all areas and not all the time. Likely the safest sector to back is one that aligns with the Prime Minister Lee Hsien Loong's vision for a high-tech Smart Nation.
In his annual National Day address in August, Lee said: "This is the spirit of Singapore. Always looking ahead, planning ahead, and staying ahead, so that when the future arrives, we are prepared for it, to ride it and to grow with it. That is how we got here. That is what we must keep on doing together, to open up fresh opportunities for ourselves and our children."
Etiquette
Singapore is comprised of many different cultures – Chinese, Malay and Indian Singaporeans – who all follow different customs. Personal relationships are central to business relationships so it's important to be respectful and not accidentally offend someone.
Business cards are exchanged on introduction and should be presented and received with both hands. If seated, it's considered polite to arrange the cards on the table to correspond with where each person is sitting. Male Chinese Singaporeans and Malay Singaporeans will happily greet you with a handshake, but when meeting a female Malay Singaporean, it's best to wait and see if she extends her hand. If she doesn't, then a slight bow with the hand over your heart is appropriate.
Singaporeans tend to have a calm manner and be soft spoken. Avoid aggressive or loud behaviour as it will be viewed negatively and it's also best to avoid cracking jokes until you know someone well. Similarly, tardiness is looked down on so be punctual for meetings and deliver reports and respond to emails promptly.
It can take several years to develop good business relationships, so take time to get to know people before rushing to propose a deal. Ahead of a negotiation always send a list of the people who will attend the meeting and sit where you are asked to sit as there is usually a hierarchy that needs to be followed. Although Singaporeans are tough negotiators, the discussion will be unrushed. It's important not to lose your temper or you'll lose face and risk damaging your reputation.