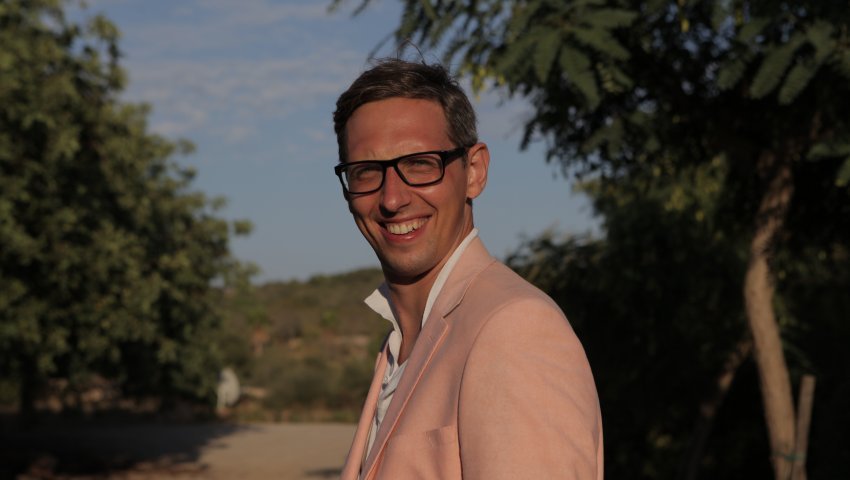 "Any digital strategy worth its salt must look beyond monetisation." That's the view of mega ad agency Y&R's global CEO David Sable, who flew in from New York for the event. Monetisation in web speak refers to the ability to generate revenue thorough a website, blog or digital platform. "Digital is everything, but not everything is digital," stressed Sable. While he outlined future trends – or 'digital game-changers' – such as one click shopping, the continued rise of mobile and the demise of websites, Sable's central message was: "Remember: people first."
Describing the tendency to "ascribe magical powers to" anything digital as "digibabble", Sable noted that for the first time "a three-year-old and an 80-year-old can use the same device in the same way. This is crucial." However, the platform – the technology – is just the tool. What storytellers across all spheres need to remember is that a digital platform does not obviate the need for innovation and creativity in the way we communicate.
"Humanity over algorithms," he emphasised. "In our business storytelling is always still key. People want stories. They want to connect. What is important is the content." In other words: Create the right platform on which to share those stories, make the content compelling and the experience relevant and useful, and the return on investment will follow.
From marketers to journalists, strategists to tech wizards, the message at the recent IAB Digital Summit in Joburg was consistent: digital needs quality content. Clearly, the conversation around digital has shifted from the platform's potential to the nuts and bolts of effective (and financially viable) engagement.
The money question
Back in 2013 David Elms, the UK Head of Media for professional services firm KPMG, touched on the challenge of monetising digital content. He noted the opportunities on offer from a 'digital switchover' but also pointed to the concerns of traditional media houses about eroding tried-and-tested revenue generating strategies.
But digital isn't waiting for old-style organisations to catch up. "In my view, too many organisations are waiting for a magic bullet; the perfect solution that will work for them all," wrote Elms. "Crucially, there is no 'one-size-fits-all' approach; different online content models will work for different publications. Experimenting with smart technology is now a business imperative and organisations that hesitate are sure to miss the boat."
He called on publishers to "take the time to evaluate their content, and indeed their audience, so as to segment, position and price their services effectively".
While Elms favoured a "process of trial and error", today's digital experts are showing that strategic thinking is very much at the forefront of successful digitisation.
A perfect example is the BBC which has been investing in multiple digital platforms since it launched a web presence in 1997 and rolled out its Digital Media Initiative in 2008. Taking delegates through the interlinked maze of interconnected platforms on which content is distributed, Dmitry Shishkin, BBC Digital Development Editor, noted how digital was taking its place alongside traditional platforms - and holding its own.
The challenge, he said, was for journalists and editors to see digital content not as something to be filed "after the fact. If you do that it will be deprioritised," he said, noting the drive to ensure that digital was given its own focus and not simply regarded as an 'add on'.
Innovate. Innovate. Innovate
Trial and error is part of this new world and Shishkin highlighted how innovation at the BBC covered everything from news cartoons to storytelling aimed at social media, harnessing the power of Instagram and new audio platforms such as SoundCloud (a Swedish audio platform that enables sound creators to upload, record, promote and share originally-created sounds), as well as the current flavour of the month: chat Apps like WhatsApp and, in South Africa, Mixit.
Shishkin added: "The big thing for any one organisation wanting to remain relevant is (the use of) chat Apps. You need to have a strategy for chat Apps. (At the BBC) we even have a chat Apps editor. His job is understanding what is appropriate and what is not."
This approach was rolled out to good effect in South Africa using the Mxit platform during the 2014 elections and on WhatsApp and WeChat for the Indian elections. In mid-2014 the BBC World Service's Apps editor, Trushar Barot, noted of the experiment: "We were the first major news organisation to try out editorial content on these platforms, so we were very much venturing into unchartered waters. Rather than setting targets for subscribers or audience reach, we used these pilots as proof-of-concepts to see if there was an appetite for these editorial products from users on these platforms."
Clearly successful, the BBC used the same approach in October 2014 to launch a WhatsApp Ebola health alert service in West Africa following the outbreak in the March.
Know your audience
Despite such innovation, a 2014 report into BBC News' digital strategy was less than complimentary. The report by BBC non-executive director Sir Howard Stringer said the organisation was "punching well below its weight".
The report read: "Overall digital reach for the BBC – News and Worldwide - outside the UK stood at a peak of around 150 million monthly unique users in March 2014 (a big news month). This is more than CNN but still less than BuzzFeed's peak of 160 million, and only the same as the MailOnline's 150 million monthly audience…. Given BuzzFeed, for example, was only founded in 2006, this raises the question of why the BBC's global digital reach is not more significant." BuzzFeed is an American Internet news media site which, in 2014, was valued by The New York Times at "about US$850 million" after a US$50 million cash injection by venture capital firm Andreessen Horowitz.
Stringer advocated the development of "an acute understanding of the audience and making news relevant to them in the same way (the BBC's) Newsbeat and Newsround write stories online which, while never deviating from the core journalistic values of the BBC, present each story in a way that is particularly relevant and engaging for the target audience". He said the solution lay in "encouraging journalists across all services to respond to the shifting needs and tastes of a specific audience. To be as effective as possible in serving audiences online, journalists must have the freedom to tailor their output to appeal to them".
However, talking to Shishkin, it seems the organisation is already working to address many of Stringer's criticisms. Speaking to Acumen following his presentation, Shishkin described innovating across platforms, trying to monetise news media and creating sustainable digital business models, while never compromising editorial. There are ways and means of experimenting with a business model, said Shishkin, noting one approach in use which allows users to read 10 articles for free, in exchange for completing a quick mini survey. "It just takes two clicks (to complete the survey) and then you can read the article. I think it is quite clever," he said. Media can, therefore, make money by charging companies for data collected from these surveys, and consumers can still access their 'free' content. A win-win.
Of course, the BBC is a special case. "We are very lucky that we are a public service organisation, so there is funding year in and year out," explained Shishkin. "I come from the global part of BBC News, the internationally reaching part of BBC News, and we (unlike the UK operation) are allowed to earn money from advertising. We take that money and we invest it in journalism."
So, even though generating income may see advertising being sold around a feature or editorial special, the quality of that content must always come first. And, increasingly, the way that content is packaged on digital platforms must reflect the way in which the audience seeks to engage.
A tailored approach
Also at the Summit, Ali Jafari, Vice President of Direct Sales for Twitter: Europe, referred to Twitter's 2012 acquisition of Vine, a mobile service for sharing short videos. Another growing avenue for content sharing, many marketers and media practitioners are still trying to get their heads around how best to use these five- or six-second video clips. According to Jafari, "six seconds is the optimal time to attract someone's attention".
As an indication of the dynamism in this space, in the media room following the presentation Y&R's Sable and Jafari chatted about the optimal video length. "Ali, you say six seconds. Facebook says three seconds to get someone's attention," said Sable. "It's interesting... I think Facebook is wrong. I love the six (seconds) because it gives you a completely different view. This has always been what we've said in our business: if you don't get someone in the first five or six seconds, then you have missed them. And that was like 100 years ago."
This discussion was picked up by Global Digital Strategist Gregor Waller, who stressed the importance of tailoring content to these new platforms. "You can't take a 30 second car ad and put it on a mobile device," he warned, calling on the advertising industry to think differently and create content which is relevant on mobile and which talks to audiences engaged on those platforms and in the style and manner best suited to these mediums.
Quite simply, said Waller: "If you want to succeed you have to invest in technology, people and creation… monetisation always starts with great products."
While the likes of the global advertising industry and traditional news organisations may find it tought to adapt to this new technology and the demands it places on creating targeted and easily accessible content, change they must. As New York-based South African marketing pioneer Matthew Bull of Bull Whitehouse noted: "Advertising is reactive, we don't look forward enough… As a species technology drives how we change as a society. It is vital in advertising that we understand where this (digital) is going, otherwise how are we going to manipulate our species?"
For Sable, Shishkin and Jafari this brings the conversation right back to storytelling. "You still need great content," Sable told Acumen. "I get asked a lot what young people should learn today and I say they need to read the Bible, the Koran, the Iliad, Shakespeare, and then ask themselves why, years after these stories were written, people still read them. Because they were good! At the core is always a great story."
Right now digital connectivity is driving the demand for content, said Sable. But increasingly the need is growing for quality content, which manages to cut through the swaths of information out there. Shishkin, for example, points to the BBC's use of immersive storytelling as part of its drive to expand the end-user experience. These 4 000-word pieces are combined with video and they can engage users for up to six minutes, "which is unusual in the digital world".
An interesting and exciting development, but, stressed Sable, it isn't new. Nothing, it seems, is. "The only revolution that has happened in information technology was Gutenberg (who invented the printing press around 1439)," he declared. "What was the real revolution? The sharing of information. We've just kept evolving how we share information and the Internet is just a bigger way of sharing information. That's all it is. If you understand that, then that drives everything that we do."