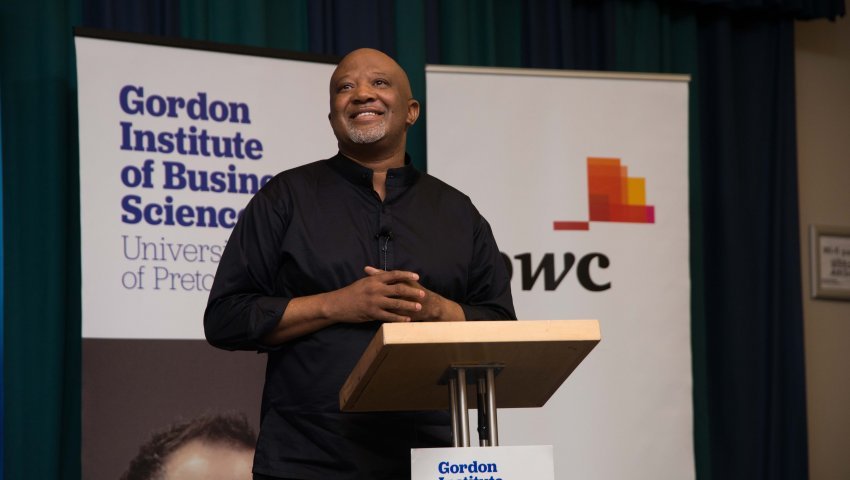 Ordinarily, deputy ministers of finance would be barely known by the public, the classic backroom technocrats playing a largely unrecognised role. But, as we all know, this is no normal society, and South Africa's then-Deputy Minister of Finance, Mcebesi Jonas, has the highest of profiles thanks to his reported refusal of a R600-million bribe to take on the top job in Finance as the Gupta point man.
The former Deputy Minister Jonas and his boss, Pravin Gordhan, have both been accorded rock-star status as bastions against the tide of state capture currently threatening to engulf the bodies politic and economic.
Introducing Jonas, Gideon Pogrund, who runs the Think Tank, made the telling point that moral truths are most persuasively conveyed in action. Leaders like Jonas were demonstrating the importance, and the power, of courageous leadership. Unethical behaviour is contagious but so, Pogrund points out, is ethical behaviour.
Growth and a fundamental restructuring of the economy are what the country needs—and urgently. That was the view given to a recent GIBS Ethics and Governance Think Tank by Mcebisi Jonas, at that point still Deputy Minister of Finance. But an active and engaged citizenry would be needed to drive the process.
During his brief introductory remarks and a subsequent dialogue with 702's Stephen Grootes, Jonas returned again and again to several interrelated themes.
The central one was the need to focus on growth while transforming the structure of the economy.
Jonas argued that growth—the creation of new wealth and assets—is the prerequisite for a radical transformation of the economy. At present, he said, we are simply redistributing what is there, thus confusing rent-seeking with true economic transformation. The latter would mean economic participation for the masses and, for it to occur (and this is the point that is made all too seldom), the economy needs to be grown substantially.
Decolonise the supply chain
In a striking phrase, uttered with his trademark jocularity, Jonas suggested that we need to "decolonise the supply chain", by letting in new entrants. An Eastern Cape man, he recalled how the numerous small engineering companies supplying the motor industry in the region did not survive the globalisation process. Somehow, that strong base of smaller businesses—they need not even be black, he hinted—needs to be reconstituted across many industries to ignite growth from the bottom up.
In Jonas's analysis, rent-seeking is more than just the antithesis of growth, it is the fountain of corruption. Because a rent-seeking or redistributive mindset acts as a brake on growth, the economic goods remain insufficient, leading to a win-at-all-costs mentality. We need, then, to move beyond pointing fingers—"It's not useful", he says—to deciding how to change the economy to drive both growth and transformation.
Jonas emphasised several times the dangers of adopting a populist approach to economic transformation and growth, ostensibly a reference to the EFF but also, one could not help inferring, his own party. Keeping the fiscus on an even keel while trying to address pervasive and systemic inequality raises "real issues that you can't deal with in a populist way. You have to be very careful," he said.
In the context of growth, he said the low rate of infrastructure investment is a cause for concern. The solution here would be to reverse the trust deficit between business and government that palpably exists.
Clearly, a very different conception of radical economic transformation than that of President Zuma or, indeed, the EFF and similar fringe groups like Black Land First.
To ignite growth and transformation, we need to agree on a model—a process that will necessarily involve trade-offs—and then make a start on implementing it. The need is urgent given the high levels of impatience manifest in the country.
Allons, citoyens!
Here, though, some problems arise. They are most evident when we consider two of Jonas's other key themes: the need for, and value of, an active, alert citizenry, and good leaders.
The leadership question is the nexus of the problem. South Africa has always been blessed with excellent leaders, especially at times of need—something we saw in the lead-up to 1994. Indeed, we have good leaders in politics, civil society and business today, Jonas said. But just who they actually are was, conspicuously, something that Jonas skipped over, particularly in the all-important political realm. This is not surprising, given the pressure he is under, but it is the key issue because it is the ruling party that holds the power, and it should be the one to provide the catalytic leadership needed to pull such a process together.
It's time, in other words, to consider the inter-factional dynamics of the ANC.
At the time of the GIBS Forum, Jonas was part of the Treasury team and his views were very much on message—as a quick reread of the Budget Speech shows. In that speech, then-Minister Gordhan also explicitly linked growth and transformation: "With transformation, we will see growth. Growth will strengthen the forces of transformation."1 Like his boss, too, Jonas advocates greater cooperation between government and business, and a cleverer use of state-owned entities, as important levers of growth and transformation.
But Jonas and Gordhan are part of the Gwede Mantashe faction of the ANC, in opposition to Jacob Zuma's dominant faction. Prince Mashele, the prominent political analyst, unpicks the dynamics with his usual laser-like incisiveness. "Some people are in power, some are not in power—that's the nature of politics at the moment," he says. Put simply, the Mantashe faction is the one that is not in power.
Furthermore, Mashele says, Jonas is not a person of influence in the ANC in his own right. His influence was entirely dependent on his position as a deputy minister.
Jonas, Gordhan and the rest of that faction are thus speaking from a position of weakness. As a result, they are not really in a position to offer the catalytic leadership needed or to provide the necessary powerful sponsorship for their vision of growth/ transformation. And, Mashele says, it will certainly not come from the Zuma camp. The in-power Zuma faction sees no benefit in genuine economic transformation and growth—only potential disruption of its carefully constructed web of influence and power. It will certainly not allow the out-of-power faction to enter the tent via the back door of an economic Codesa, or similar process.
"It will not happen," Mashele says flatly.
(Incidentally, the Zuma faction's thought process reminds us that unethical conduct is not only contagious, it also blinkers those who practise it. They literally cannot see beyond their most narrow interests.)
If this analysis is correct—and it certainly seems to be—then the real reason for Jonas's repeated references to the need for an active and alert citizenry becomes clear. In the absence of galvanising political leadership, it is civil society, and business too, that will have to play that role, and essentially force the issue.
This observation returns us, rather neatly, to where we started, with Gideon Pogrund's observation about the contagion of ethical leadership. I think what Jonas was intimating was that while his actions may have sparked the chain reaction, decisive support is needed from all of us.
Maybe it is time for us South Africans to abandon our addiction to ready-made leaders and, to adapt Ghandi's phrase, become the leaders we want to have. If that happens, Jonas's example will truly have set in motion something great.
1 Minister Pravin Gordhan: 2017 Budget Speech, http://www.gov.za/speeches/minister-pravin-gordhan-2017-budget-speech-22-feb-2017-0000.