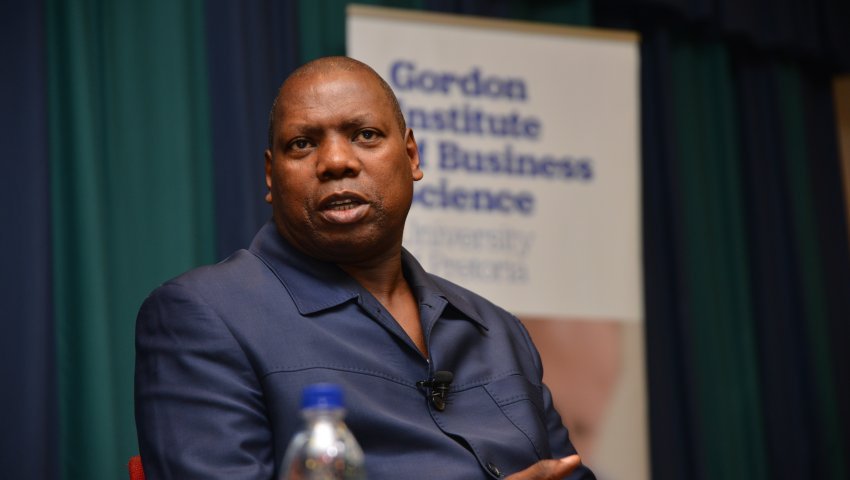 Populism and nationalism were driving forces behind the UK's Brexit UK and the Trump presidency in the US. Indeed, both continue to inform rhetoric, particularly in nations like France, Germany, Poland and Hungary. But in South Africa, where the EFF already provides a radical voice, could a moderate lead the ANC out of trouble? Currently ANC Treasurer General and a member of the ANC NEC 'Top Six', Mkhize is a medical doctor by education and former KwaZulu-Natal Premier. Calm, reasonable and, in large part reassuring, he answered all questions put to him during a recent GIBS forum, although, with typical political aplomb, some were addressed less directly than others.
This is hardly surprising, says independent political analyst Ralph Mathekga. "He is a moderate, a reasonable moderate." Ironically, these are traits which "could actually work against him within the ANC, as extremism and rhetoric seems to be more important than substance".
During the discussion, Mkhize spoke extensively about the economy and poor growth. However, his words offered little new direction, rather following the ANC's policy documents, which were released on 12 March and which largely echo the six-year-old National Development Plan (NDP). A theme which Mkhize visited regularly was the need for greater trust between government and the private sector, although he did take the opportunity to slap business on the wrist, saying: "It is South African business that must also show confidence in their own economy."
It was to be expected that Mkhize would speak of radical economic transformation while admitting that action was being foiled by external – and internal – pressures. He noted that inequality was a global concern, but said: "In South Africa we do have a problem of being very narrow and we need to find a way of reducing the concentrated ownership and try to bring in more and more players into the economy."
He was adamant that, two decades into democracy, those black professionals who had earned their stripes now needed to be pushed to the forefront of the economy. "What about all the skills that have been growing in the various sectors? Now it needs to move on and show a change in the patterns of control and ownership," said Mkhize. "It's not just about the politics, it is about stabilizing the economy of the country."
Over to you
Of course, a booming economy still requires support from investors and when asked what proposals were on the table to make South Africa more attractive to investment, Mkhize punted the ball right back at the largely business-centric audience. "It is something we need to work on collectively as South Africans," he said. "It cannot be an issue which only one side can deal with… In the last year there has been a lot more interaction which has made it possible for government and the private sector to identify and try to solve some of the thorny issues, amongst them the issue of labour reforms. I would say it is a good opener for business, labour and government to be working together. Then, when you go out, you can sell the country's attractiveness on the basis of one story."
But what, beyond the focus on black industrialists and reiterating the tenets of the NDP, "will trigger that investment", probed forum chair, GIBS' Professor Nick Binedell.
And there – beyond an agreement that economic growth was needed to drive transformation – the overarching sentiment seemed to be that much still needed to be done. Even Mkhize's reference to platinum group metals beneficiation efforts – in collaboration with Impala Platinum - seemed a long way off. While a 16-hectare Special Economic Zone in Springs has been earmarked for fuel cell development, a land feasibility study was only completed at end-2016.
From youth unemployment to skills development, building small businesses, addressing lacklustre performance by state-owned enterprises, and increasing business with Africa, Mkhize stuck to the approved script. This came as no surprise to Mathekga. "He is to some extent a technocrat, a pragmatist. Except for a few bad decisions, or indecisions (the 'three amigos' corruption case) during his tenure as premier, he usually stays out of controversy." The 'amigos' case involved provincial government corruption and fraud in connection with fixing hospital tenders.
Mkhize was, however, vocal about the South African Social Security Agency (SASSA) social grants crisis, which was unfolding in the Constitutional Court during the week in question. "I would say that that kind of technology on which the social grants are distributed… government must find a way to negotiate taking over that… then you can open up the rest for efficient and competitive bidding," he said.
"Why didn't you?" asked Binedell.
"That's a good question," replied Mkhize. "A lot of focus is going into the issue, so we should be able to find out what happened. I believe the creation of SASSA itself meant that it would be the repository of the technology, and the personnel that would assist in the process." He added: "I think all of us have been watching the SASSA story, and most worrying for everyone is the fact that this is a very sensitive area of social safety net that assists a lot of people, particularly poor people… Linked to that is the whole issue of improved service delivery."
It wasn't an all-out condemnation of the handling of the SASSA-Net 1 contract fiasco, but a gentle criticism. It's a stance he also took the day before the Forum when he told Business Day newspaper that the Constitution should not be changed to allow for land expropriation.
While comments around SASSA and land reform appear to position him outside President Jacob Zuma's camp, they are interesting giving the current rhetoric coming out of the ANC and the party's attempts to appease disillusioned voters. Mathekga said: "His resistance to attacks [against] the Constitution might result in some [ANC] youth league members concluding that he is part of the establishment, read 'white monopoly capital'."
Space for moderation?
However, some might argue that – politics aside – South Africa may well need moderate leaders to help unite the country. In this respect Mathekga feels media speculation by the likes of Daily Maverick and Huffington Post that Mkhize may be the dark horse in the succession race, may not entirely be without merit. "He comes across as a reasonable man, which means he could attract assistance," said the analyst.
But drill down into Mkhize's network and influence and Mathekga feels he is unlikely to have the clout to take on either Cyril Ramaphosa or Nkosazana Dlamini-Zuma. "It won't work well for him to antagonise either one, all he has to do is to position himself as a number two for either camp… He could fit very well in Dlamini-Zuma's presidency and could earn her some legitimacy. He also fits well in Ramaphosa's camp because he could assist it to fend off disgruntlement of the group that would have lost out if Ramaphosa succeeds."
Certainly, Mathekga's view that "key stakeholders in our economy would be more willing to work with him", is vitally important if the ANC is to create the trust which Mkhize emphasised. "This will then get him to build alliances between private sector and labour in a way that result in less resistance to his policies, although they would be ANC policies," said Mathekga.
Despite the keen interest in the ANC succession, Mkhize would not be drawn on the issue at GIBS, beyond saying: "The party is going through a lot of issues which it has to face, among those are issues of what we have seen as decline in some areas of support, especially in major cities, and therefore it raises a number of issues of what needs to be fixed within the party….The issues of fighting corruption and good governance are also very important."
How the ANC faces these problems could determine the party's future, particularly when given a question like this during the GIBS Forum: "Why should we as young professionals vote for another 25 years of the ANC since, up to this point, your ability to deliver has been poor and your ability to hold leaders to account has been poor?"
That was one of the questions Mkhize chose to skirt.
Calm, reasonable and, in large part reassuring...

...it is a good opener for business, labour and government to be working together.