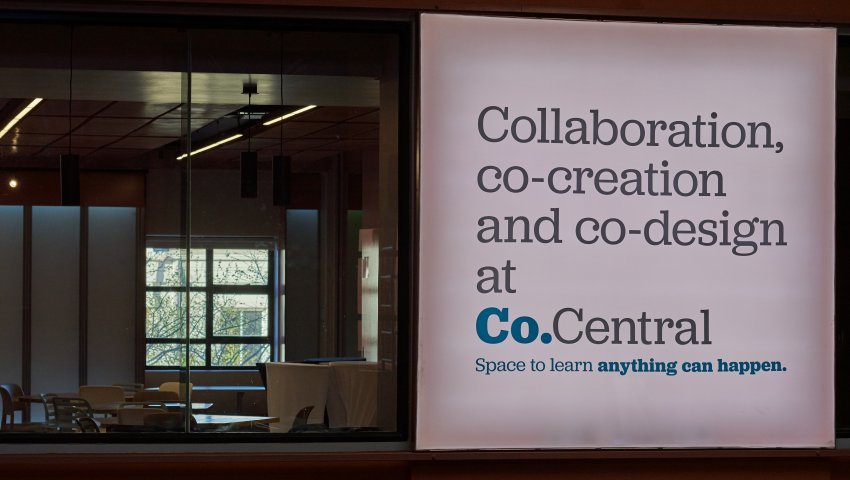 As you might expect, Gill Cross, who looks after Co.Central and was responsible for its design and development, doesn't have an official title. When pressed, she describes herself as its "innovator and chief agitator", but she's very clear about its purpose.
"It acts as a means for educators to rethink the way we do things, but also as a space where anything can happen and anything which you can envisage the client doing in there, we could do for you."
Her analogy has nothing to do with Star Trek and everything to do with art.
"Space, the final frontier", begins the monologue that opens every episode of Star Trek. But for educators, including the team at GIBS, space is far more than a frontier. It's a place or a time or a platform or a blank canvas, in which, during which or on which learning can take place. And if that sounds very broad, it's meant to be. Called Co.Central, it's GIBS' new, flexible, modernist learning
"Like an exhibiting artist in an art gallery, the space takes on the qualities of the artist's work that's being exhibited there. I see it very much as a gallery space where we can curate anything a client would need and augment GIBS as a creative brand."
Cross notes that education itself is changing.
"It's becoming far more democratised in terms of the way people want to learn and consume education, and the types of experiences they want to have. They want to be a part of co-creating that. And that looks back into the 'Co' part of Co.Central."
People, she says, want to be in charge of their own learning journeys, particularly if that journey is non-academic or less formal. Co.Central gives them the spaces and tools to let them become what they want to become, she explains, noting that this also forces academics and lecturers to carry on being relevant.
"We have a space that's almost like a meme for us. There's no longer a front-of-class in the empty box, so what do we do? Well, we can't do very traditional, transmission-based lecturing anymore, so what else can we do? We need to provoke those sorts of questions in our faculty."
Cross agrees that Co.Central contains elements of theatre.
"When we looked at the space, we looked at how you would enter it, and both doors have been designed with an almost camera obscura feel, with double mesh on the doors, so you can't quite see what's in the space until you open it."
There is also ambient lighting that changes colours and mood lighting that can be adjusted, along with a WiFi-based projection system that is technology agnostic, allowing participants to stream video direct from their cellphones.
Along with sight and sound, touch, taste and smell are also catered for, with brightly lit emoji boards as you enter the facility – press the right emoji to show exactly how you're feeling – and then follow the smell to where a barista is waiting to offer you either a very exotic cup of freshly brewed coffee or a bespoke tea.
"It fires up different parts of your brain," says Cross, "and depending on whether you want a tea that picks you up with a lot of hydration in it – a tea bomb - or a tea that's more calming like camomile, it plays into that sense of creating your own journey and experience in this space."
But Cross is quick to dispel the notion that this is "a high-tech innovation space – it's not. It's a far more fluid, highly ambient space that is flexible. No 3D printers or CTC machines!"
Co.Central was designed by Local Studio, a "young architectural practice… that works in the Beirut of Johannesburg," where Cross says, "they take mostly social housing development projects and want to use architecture to connect people to space and with each other. I like their philosophy of taking old buildings in Hillbrow and making them into multipurpose spaces. They're problem-solvers."
So what does Cross think might emerge from Co.Central?
"Hopefully things I'd never imagined, and hopefully it takes on a life of its own in terms of it being used in ways we had never thought. I'd like to start having different dialogues with very different people in the space. We could also start having curated events about arts and culture there.
"We're hoping that clients who use the space – for things like ideation sessions or hackathons, perhaps? – clients also get a sense of, wow, this is a space where we can actually start thinking and behaving differently.
"It becomes a synonym for 'business unusual at GIBS' and it contributes towards differentiating GIBS as a creative, progressive brand. We can offer 'business school of the future' stuff right here, right now."
Or, to borrow once again from Star Trek, Co.Central is a space that allows learners and faculty 'to boldly go where no one has gone before'.